Milton Creamery
Milton Creamery
Type: Creamery
Produces: Cheese
Location: Milton, IA
Miles from Coop: 103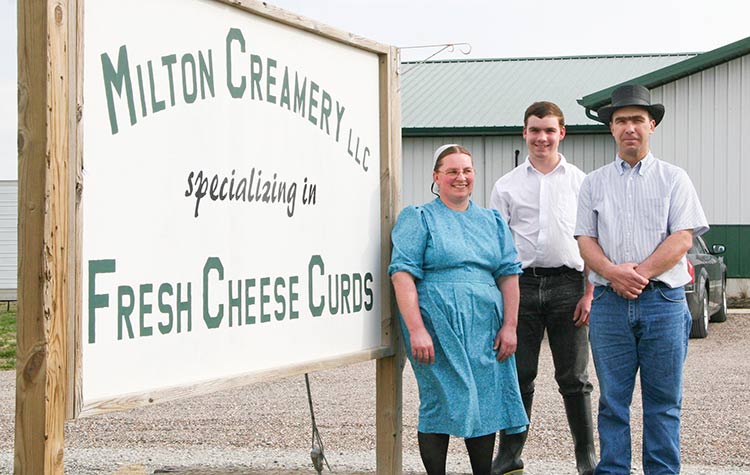 Milton's Prairie Breeze Cheddar just keeps winning awards, around the world and here at home! (It's the 4-time Blue Ribbon Winner at the American Cheese Society, among other accolades.)
The Musser family – Rufus, Jane, and sons Junior and head cheesemaker Galen – make artisanal cheese the old fashioned way, and source their added growth hormone-free milk from less than 30 miles away:
"They're all small family farms where the cows have access to grass," Rufus notes, "all averaging 30-40 cows per farm."
Milton doesn't use animal or GMO rennet – they use vegetable rennet instead, suitable for vegetarians. Their cheese curds get top marks for snacking around here!
Small Farms, Big Cheese
If 'know your farmer' is becoming cliché, take it up a notch: 'know your cheesemaker!' The Musser family at Milton Creamery may already be familiar faces, as we're always honored to have Rufus (above, with a curd cutter in their Creamery) and his wife Jane, sons Junior and head cheesemaker Galen, and daughter-in-law Rachel (all involved in the family business) in our stores. Rufus visits most often, with his big personality, winning grin, and delightful food ideas up his sleeve.
When we arrive just after lunch at Milton's Creamery, in Milton, Iowa, the crew is already on their third batch of Milton Cheddar. The Creamery employs 15 people – a dozen of them fulltime – and the day starts at 3:30AM for the early crew, making cheese the old fashioned way.
8 Farms, 30 Miles
The milk for Milton's cheeses travels less than 30 miles to their creamery: "They're all small family farms where the cows have access to grass," Rufus notes, "all averaging 30-40 cows per farm, and all Amish, currently." High quality milk is their foundation, so "we do pay a nice premium. We want good milk, and I want my choice of the top."
Furthermore, Rufus comes from a dairy farming background and knows that the dairy business is an incredibly challenging one to actually make a living in: "We wanted to give dairy farmers a market option – and a better option."

Upgrading for Energy Efficiency
Milton invested in upgrading their pasteurization system about a year ago: "We spent almost a quarter million updating. We like shiny stainless steel [herein the U.S.]! And it costs big money." Rufus chuckles about family roles in the business: "When we went to the new system," which was a high-tech switch, "the boys said to me: 'Do what you do best – stay out of it!'"
The new system offers significant efficiency savings: "We save 40% of the energy we used in the old system. That's a big deal for us." We hear him! Efficiency is good for the environment, and the pocketbook too. "Now we're as state-of-the-art as we can get."
Despite the fancy pasteurizing equipment, their cheesemaking methods are old fashioned ones. "We might have to do some fancy footwork," to stay out of the way, he announces, as he opens the door and ushers us in to the old ways.

Old Fashioned Methods
"In here," Rufus gestures in the creamery, "'Cheddar' is a verb. We think of it as a noun, but in here, we're Cheddaring." He takes us back: "Making cheese is about preserving milk," he points out. "In the Old Country, it was about having something for the wintertime to eat, since the milk wouldn't last."
Many of the old methods taste best: "The old cheesemakers tell us you can taste the difference between stirred curd (machined curds) and the old-fashioned way that way we do it." Milton doesn't use animal rennet, nor do they use GMO rennet that's produced these days – they use vegetable rennet instead, suitable for vegetarians.
Milton's Prairie Breeze Cheddar just keeps winning awards!
It's the 4-time Blue Ribbon Winner at the American Cheese Society 2011 (Montreal, Quebec), World Cheese Contest 2010 (London, England), American Cheese Society 2009 (Austin, Texas), and U.S. Cheese Championship 2009 (Green Bay, Wisconsin).
Moving into the aging rooms, "Warning!" he alerts us. "You will get older in here," he grins. Their extremely popular Prairie Breeze ages a minimum of 9 months. "Your cheese tells you what it wants to be," Rufus notes. "You don't really need fancy equipment, you need a smart cheesemaker!"
"I grew up in a family where we dissected our food. We pride ourselves in having sensitive taste buds," and they put them to work for quality control on every batch. Furthermore, "We can trace every package of cheese back to a [specific] vat of milk. "This doesn't just happen without a lot of hard work. Entrepreneurs take note: "If you hate paperwork, don't go into cheesemaking!"
Local economy dreams can come true.
Not long ago – just in 2008 – Milton Creamery offered their cheese just at farmer's markets. Now, thanks to your support, they're buying 100,000 pounds of high quality milk each week from local farmers, and making award-winning cheeses, now available across the country. Iowa grows more than corn and pigs – we can grow small businesses with unique flavors every bit as successfully.
---
Milton Creamery Products
Checkout these great products from Milton Creamery
Products available in store and online. Limited selection online.

---
Other Local Producers
Be sure to check out these others great local producers!