Crystal Forestry Project
Crystal Forestry Project
Type: small business
Produces: Household Cleaning Products
Location: Iowa City, IA
Miles from Coop: 2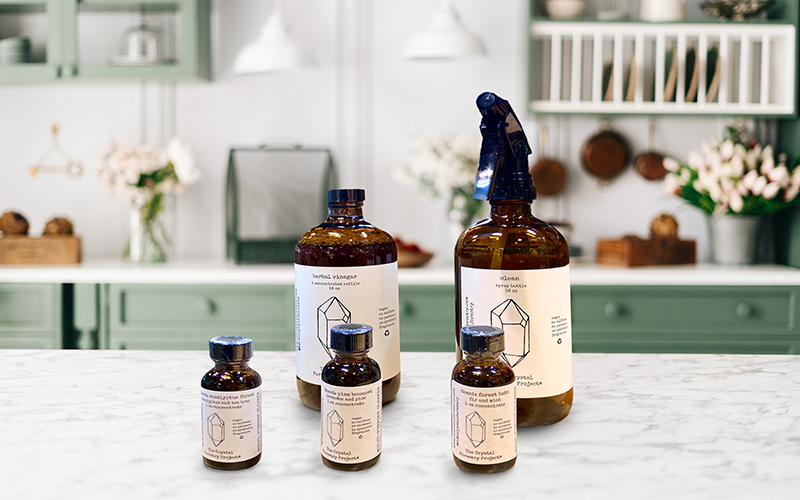 "I wanted to bring sustainable cleaning products to market that are fun to use and smell fabulous."
May, owner of The Crystal Forestry Project, has been making natural products for over a decade for use at home and in her work cleaning professionally.
She came up with the line to help families reconsider what cleaning products can be made from. Using a combination of natural ingredients, May leaned into elements from earth, water, and plant life.
She adds,
"While cleaning for a living, I found the unique fragrances and minerals made cleaning more enjoyable than working with traditional products, without compromising effectiveness."
"Often, people clean with products that contain lots of chemicals and artificial fragrances, that when flushed into our drains or environment can have toxic effects over time."
The right combinations of plant extracts and natural ingredients can make powerful cleaners for everyday use with less impact on the environment.
Crystal Forestry Toilet Cleaning Crystals are made with cinnamon and rosemary, the herbal vinegar concentrates contain herb extracts, and the multi-purpose concentrates contain lavender, tea tree, eucalyptus and mint essential oils.
Crystal Forestry cleaners are also infused with quartz minerals for a clean, neutralizing solution with no abrasiveness.
From cleaner to container, May's focus is on keeping her product line as sustainable as possible. Using reusable dark glass bottles with concentrated solutions, customers can buy the spray bottle once and purchase the concentrate when they need to fill up.
"In our grandparent's generation there were a few home remedies used to clean around the house. Now there are literally aisles of products that are made to clean one or two things. People can reduce their cleaning supplies greatly with just a few simple products."
Try Crystal Forestry Project cleaning solutions in your home for a naturally fresh and clean finish.
---
Other Local Producers
Be sure to check out these others great local producers!