Larry Schultz Organic Farm
Larry Schultz Organic Farm
Type: Farm
Produces: Organic Turkeys
Location: Owatonna, MN
Miles from Coop: 247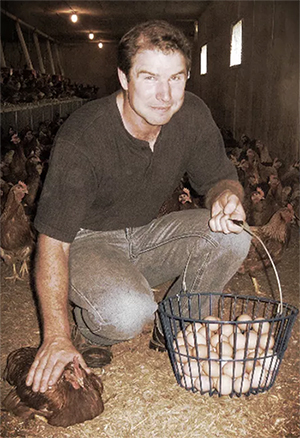 Larry Schultz, 3rd generation family turkey and chicken farmer.
Larry grew up on a small family farm outside of Owatonna, MN. His parents, Alvin & Helen Schultz, have always farmed organically.
When farm chemicals came into use in the 1950's & 60's, they never changed their farming practices. When Larry started farming in the mid 1980's, he followed in their footsteps using organic methods. He started selling eggs in the Twin Cities and metro area in 1992 and decided to certify organic in 1998 to more accurately describe what their products really were.
"We have always tried to provide the very best quality products at the lowest possible price."
Larry says.
You may remember seeing "Schultz Chicken" in the early to mid-1990's.
"At that time you could not call meat organic, so we labeled it as all natural, free-range, no hormones, no antibiotics administered. Our meat is still all those things, but meat is now allowed to be called organic."
Farming organically is a way of life for the Schultz's.
They are 3rd and 4th generation farmers who have never crossed over into conventional practices with herbicides, insecticides, or artificial fertilizers.
Schultz Organic Turkeys
Schultz organic turkeys represent a serious commitment to organic farming. Schultz turkeys strut their stuff meeting both Global Organic Alliance (GOA) and USDA guidelines and certifications.
They are fed certified organic feed which contains no antibiotics, herbicides, or pesticides. Minnesota winters can pack a punch, but once we get through the winter it's always a treat to swing open the barn doors and watch as the chickens charge outside to enjoy the many wonders of nature.
The turkeys are raised seasonally through the summer and fall months. They enjoy the outdoors once they are feathered and ready for summer. You will find that Schultz turkeys are more flavorful, succulent, and enjoyable than their commercial comparisons.
"They have that old-fashioned flavor, the way turkeys used to taste. I think you'll agree there isn't a more tasty bird around!"
---
Other Local Producers
Be sure to check out these others great local producers!