Jefferson County Ciderworks
Jefferson County Ciderworks
Type: Cidery
Produces: Hard Cider
Location: Fairfield, IA
Miles from Coop: 60
Locally based in Fairfield, Iowa, Jefferson County Cider Works has been making waves in the hard cider industry as a flavorful and local Iowan producer.
Originally limited to just restaurants and bars (with the exception of their Fairfield taproom), Jefferson County Ciderworks now sells their hard ciders statewide (including your local New Pi).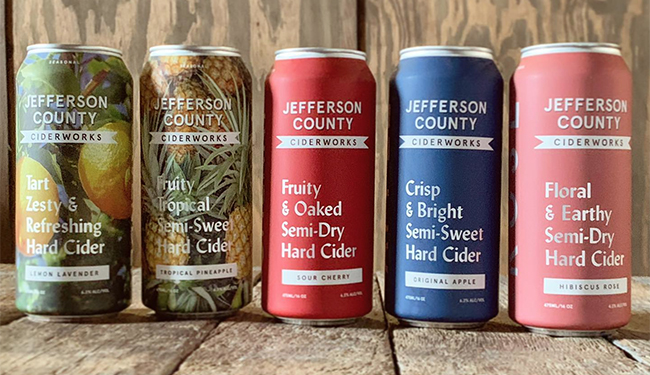 Building on Variety and Authenticity
Jefferson County (or as they like to call themselves, Jeffco) Cider has a multitude of options that are ideal for any get together. Session ciders are primarily considered perfect after a long day in the sun. Featuring two prime flavors, including a zesty and bright citrus and tart and fruity berry, these are ideal for all day sipping.
Their core ciders include semi-sweet and semi-dry alternatives, making them the perfect pairing with appetizers and meals. These are sold year-round so you'll always be able to pick up a pack.
Alongside these flavors, Jeffco always looks to bring in seasonal notes to light up your taste buds in a flavorful, "never dull" way.
As Jessie Narducci, their head cider maker, told the Des Moines Register,
"We're always coming up with new flavors using different fermenting methods, added natural flavorings, and aging techniques. If we land on something great, there's nothing stopping us from throwing it into some cans and sharing it with everyone."
Jeffco Cider is made from 100% fresh-pressed whole apples grown on Jesse's family farm so you know that you're experiencing authenticity with every sip. Additionally gluten-free and made with no added sugars or artificial flavors, this is guaranteed to be a perfect local option for anyone.
Find Jeffco's regulars and seasonals at the Co-op and become a guaranteed Jeffco Cider fan!
---
Other Local Producers
Be sure to check out these others great local producers!