Backpocket Brewing
Backpocket Brewing
Type: Brewery
Produces: Beer
Location: Coralville, IA
Miles from Coop: 1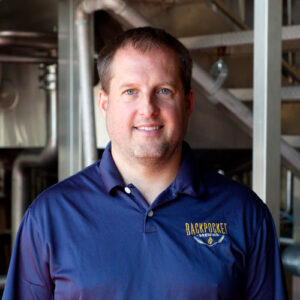 Jake Simmons, Owner of Backpocket Brewing in Coralville and Dubuque, IA
I always knew I wanted a job that was more than a job,"
Backpocket Brewery owner Jake Simmons says.
"My background is in the sciences and I was getting a PhD in microbiology."
He switched to working in labs in the private sector, and,
"It was interesting… but I couldn't get excited about it."
Jake made the big jump: dropped that lab job and set off with his mid-twenties still in hand to find something that'd make his mind bubble in the morning.
"Instead of data for the sake of data," as he saw it, he wanted: "To create something tangible I could share – something people could enjoy, and I could enjoy."
Enter: the brewery business.
"At that point, some microbreweries had opened up, but not like today," Jake alludes to our current fun upswing in local craft breweries. He got into home brewing, and then professional brewing, and just kept moving:
"Ultimately I was the brewer at a brewpub in Northeast Iowa, Old Man River."
Wanting to go into production bottling, that business grew into the one we know today as our own Backpocket Brewing in Coralville, Iowa.
Clean Ingredients for Focused Flavor
"The dominant narrative in the craft beer world is the extreme," Jake notes, hitting peak strong hops, at the moment.
In Backpocket's beers,
"We, more than most microbreweries, strive for balance. While we have fun with it too,"
theirstandby favorites aren't something that "blows out your taste buds. We have a lot of German beers: the Germans have a long history of creating go-to beers you'd keep in your back pocket (if it would fit) – in the abstract idea of a back pocket. We set out to make full flavored, sessional beers; go-to beers."

Jake's favorite?
Their Wooden Nickel, "A peated bock, which is a very unique hybrid style. If you go to Chicago, you won't find it. It has a distinctive flavor – earthy, smoky flavors."
Backpocket's ingredients are influenced by the German beer purity law, Reinheitsgebot (literally "purity law" or "purity order"):
"We adhere to the general idea that you don't throw additives in just for the sake of extending shelf life or speeding up the brewing process – we don't do that."
---
Other Local Producers
Be sure to check out these others great local producers!