Great River Maple
Great River Maple
Type: Producer
Produces: Maple Syrup
Location: Garnavillo, IA
Miles from Coop: 86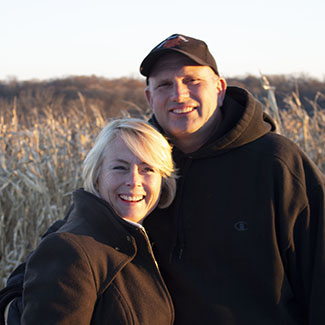 "This is my mother's mother's place,"
Dan Potter explains, offering a mug of coffee (sweetened with maple syrup) across the kitchen counter in their brick farmhouse.
"My great, great grandfather was a brick maker and kilned the bricks here… He made maple syrup too, but he'd never really sold it,"
he explains – the family mostly traded it with neighbors.
So many odd years later, Dan and high school sweetheart Dorinda, and the entire Potter family work together to make their 100% natural maple syrup from the sugar bush inherited from Dan's great grandfather.
"Food's important here," Dan says.
You can spot the family's maple forest (their "sugar bush") from the gravel road to their farm, the only woods in a rolling cornfield panorama. Dan inherited the hilly, wooded portion of the family's farm, as he always liked the wilder parts, but then realized he'd gotten the short end of the stick since it wasn't farmable.

You can spot the family's maple forest (their "sugar bush") from the gravel road to their farm, the only woods in a rolling cornfield panorama. They needed to generate income from the land, so a forester came out to look at the trees.
"Dan asked him, 'What would this maple bring in? A huge, massive tree," Dorinda holds her arms out like they're wrapping around it.
"75 bucks!" he told them.
"For a tree that's been there hundreds of years. It just didn't seem right,"
she shakes her head.

On his way out, the forester joked,
"Or you could tap it!" and they thought, well, why not?
The Potters decided to make syrup for the public in 2009, and they hit a milestone in 2015: they'd been able to employ 10 or 11 people over the previous year and 2015 was the first year Dan could make the business his fulltime occupation.
"He's a workaholic," Dorinda says, but Dan says,
"last year it was so hard to get into the sugar bush we had to get snowmobiles. Why, I get to do all my favorite things? And why wouldn't I love making maple syrup?"
They've tapped 4,000 of their maples now, "and 6,500 is what this farm would support," Dan notes. A maze of connecting lines – 34,000 miles of them! – take all the sap downhill with gravity power and then into their sugar shack, a repurposed farm building (originally built for sheep), built between 1914 and 1920.
Mark your calendar: Visit their beautiful farm this March! Great River's Maple Festival every March draws up to 650 people. Join them for breakfast (which calls for plenty of maple), music, kid-friendly activities, and tours of their sugar shack and sugar bush. Since they're nearing maple production capacity on their own land, they've started talking to neighbors that have woods that need to make money off their land.
"We've talked with people and asked them if they'd like to sell us sap instead of log it," Dan explains.
"When you have maple syrup on your pancakes from here, you're helping keep the trees here,"
he adds.
Producing maple syrup in Iowa doesn't just taste delicious – it's also about maintaining diversity in our local landscape.
Their whole house and all their hot water is heated with wood –
"Dorinda set it up," Dan points out.
A reverse osmosis system takes the water out of the sap and leaves it at the exact, more concentrated level they want, so they can take the syrup through the whole process more efficiently with less fuel.
And the water they take out, called permeate water, can be used to clean their evaporating tanks.
"Most producers would wash [their tanks] once a week, but we do it everyday,"
Dorinda explains.
"We're one of the only systems where we wash them every single day."
"We like our sap to stay extremely fresh – if the sap clouds over it affects the flavor, so we like to keep our sap clear as water,"
Dorinda explains, processing it within 24 hours, usually 12. That means long hours during the peak of sugar season – last year the two of them kept the sugar shack going nearly 7 solid nights and days.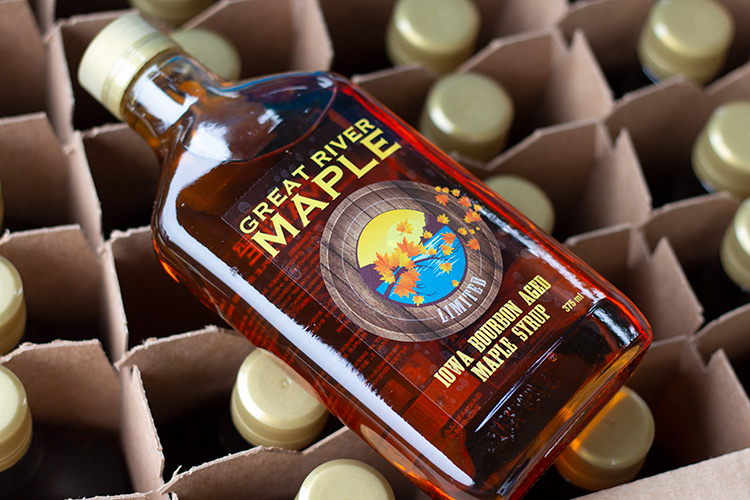 Local on New Pi shelves: Great River Maple's Pure Maple Syrup, Bourbon aged Maple Syrup (yes! aged in local bourbon barrels!), & OUTSTANDING luxurious Pure Maple Cream – try spreading it on banana bread!
"We eat and live in the sugar shack during sugar season! Dorinda's always in the sugar shack trying to make more syrup to get ahead of me, and I'm always in the sugar bush, trying to bring in enough sap to get ahead of her,"
Dan laughs.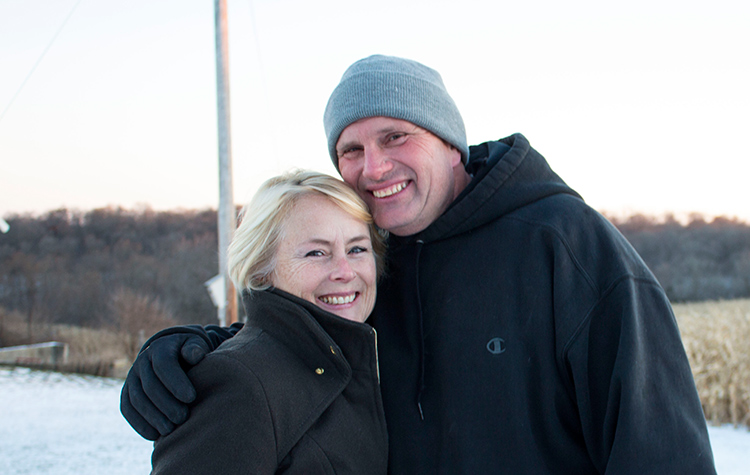 "It's been a competition from the get-go – we're good friends until the sugar season," he smiles. They tease each other, but
"Deep in all of this competition between us, it's all about sweetness."
---
Great River Maple Products
Checkout these great products from Great River Maple
Products available in store and online. Limited selection online.

---
Other Local Producers
Be sure to check out these others great local producers!