2022 Annual Report
2022 Annual Report
Letter from the Board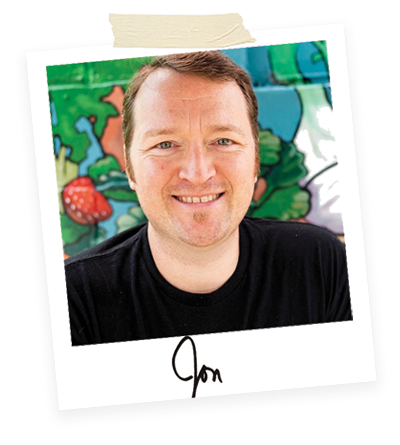 As we move out this pandemic, I want to take a moment and express my gratitude and appreciation for everyone in the organization who has worked to carry us through to today. I want to especially recognize our staff working the sales floor of our three stores and in production at the hub. I can't imagine the stress of doing those jobs during the past 2.5 years or the lingering stress as Covid diminishes but isn't gone. I know that all of my fellow board members share my appreciation and gratitude for your hard work. On behalf of the board, I want to recognize your efforts, sacrifices and dedication. You kept the store open and all of us fed. Thank you so much!
Co-op Member Savings
Save money on everyday items just by being a member! Here are the lights from this year's member rewards.

- 14,697 loaves -
of FREE house-made bread
Saving $64,506.97 on bread

- 1,885 gallons -
of FREE local milk
Saving $8,761.39 on milk

- 295 lbs. -
of FREE grass-fed ground beef
Saving $2,550.40 on beef

- 2,026 pkgs. -
of FREE salad mixes
Saving $8,863.08 on salad

- $252,797.39 -
of total member only savings
in 2021 alone

- $60,918.12 -
in member coupon redemptions
Way to go!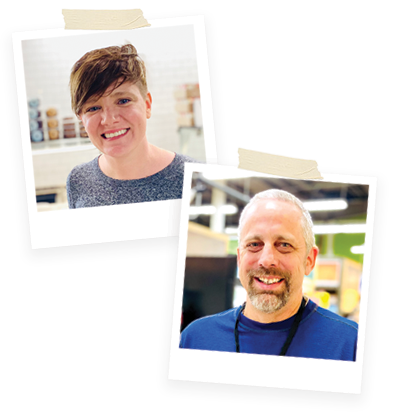 Meet the New Team!
This summer, some familiar New Pi faces stepped into new leadership roles in our organization. Meet Ann, Amy, and Doug and learn a bit more about their work at the Co-op!
Local Growers are our Bread & Butter
We purchase from over 130 local farmers and food producers year-round to bring you the best Iowa has to offer (Wisconsin, Minnesota, and Illinois, too) – even for the ingredients in our prepared foods! You can find goods from the growers and local businesses you love right here at your Co-op, every day of the year.
The Crystal Forestry Project
Iowa City, IA
As a professional Cleaner, May came up with a cleaning line to help families reconsider what products can be made from. Using a combination of natural ingredients, May leaned into elements from earth, water, and plant life. From cleaner to container, May's focus is on keeping her product line as clean, sustainable and wonderful smelling as possible.

Dogpatch Urban Gardens
Des Moines, IA
Just blocks from the Des Moines metro, Jenny is showing how a plot of land in her community can be transformed into an Urban Oasis. Jenny and her family farm 10,000 lbs. of organic produce seasonally, mostly lettuces, but also herbs, peppers and tomatoes. Aside from the farm land, you can also visit the property which sells a variety of local products.

Hansen's Dairy
Hudson, IA
Dairy farming since 1950, the Hansen's are on their seventh generation of growing up on the farm now. They grow all the alfalfa and non-GMO corn and raise their own closed herd of 150 Holstein cows – meaning all their cows were born on the farm (not trucked in from elsewhere). They even have records and names for every cow that's ever been on the farm!
Treasurer's Report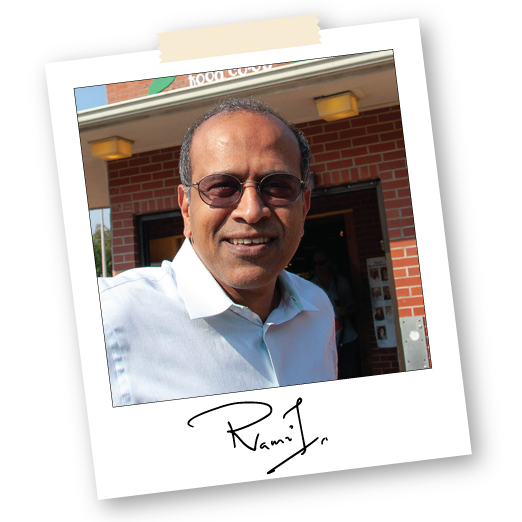 As shown in these financial reports nearby, we are not in great shape. The primary reason is the persistent decline in sales volume, brought about by the rapid expansion in the number, type and size of grocery stores in the area. Inflationary pressures caused erosion in margins as we tried to manage the cost increases in house by increasing efficiencies rather than passing them onto you as higher prices. Finally, as you all know, the market for labor is unsettled. We are short-staffed in several key areas despite offering competitive wages. This inability has translated to lost sales and profit in areas such as the bakery.
- Ramji Balakrishnan, Treasurer
2022 By the Numbers
We balance environmental, social and economic goals while reducing environmental impacts and giving back to the community and our staff. This comes to life in many ways, such as supporting our staff and their career aspirations; improving our stores to have green standards just as high as the products on our shelves; providing for our neighbors and larger community through donations and sponsorships; and offering fun and educational resources through events and local partnerships.

- $9,304 -
given in local donations and sponsorships

- 98,000+ gallons -
of food waste and compostable utensils diverted from landfill

- 407,185 lbs. -
of food donated to Table to Table since 2018

- 81.5% -
of all produce was sold organically since 2011

- 2,400+ -
local products featured on our shelves this year

- $2.5 million -
in purchases went to producers within 250 miles of the Co-op

- 3,458 -
Double Up Food Bucks given
to eligible shoppers

- $19,525.66 -
saved through our Fresh Food Access Program
Financial Report
Learn more about the Co-op's 2022 financial performance.
Become a Member
If you're not a member and want to support the work you just read about,
consider joining our community of over 34,000 members!