From the Blog
Local Apples Galore!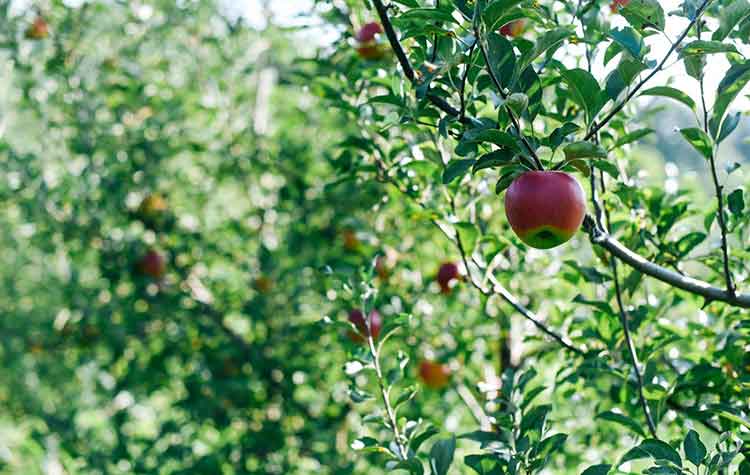 Local apple season is upon us! Check out the local goodness in our abundant produce section from some of our favorite orchards, Buffalo Ridge, Timeless Prairie, & Wilson's Orchard.
Our local producers are the stars of our show. Here's a little background on where your apples came from:
---

Buffalo Ridge Orchard
Buffalo Ridge Orchard is located at the top of Buffalo Ridge, just outside of Central City, Iowa. Farmer Emma Johnson's mom started the orchard with the romantic memory of a heritage apple tree from her grandmother's farm as her inspiration. Each year, the family adds more trees to the orchard (they now have over 3,600 trees in their orchard), allowing them to grow their business slowly, at a comfortable pace. Today, Emma; her husband, Marcus; her parents; and a few others continue to work the orchard.
Buffalo Ridge grows over 50 varieties of apples. Look for one of their favorites to be in the stores in September: Sweet 16 (also known as Song of September). It is an especially sweet, crisp, and crunchy apple with hints of cherry.
---

Timeless Prairie
Dave and Susie Differding know how to grow tasty apples. So much so, that at this year's Iowa State Fair, Timeless Prairie walked away with 12 blue ribbon winners! AND their Ruby Jon was awarded Best in Show! AND Timeless Prairie Orchard received the Lee Kline Exhibitor Trophy for the 6th consecutive year.
We've been enjoying the Zestar and Jonamac the last few weeks of August and now it's time for two more award winners to come to your Co-op. The Blondee and the ever-popular Honey Crisps arrive September 5th!! That's tomorrow, folks!
These are sweet, crisp and explosively juicy – the yummiest apples I know.
Their orchard in Winthrop, Iowa, overlooks the rolling hills of Buchanan County, on property that's been in the family for 4 generations. They utilize their extensive research and technology for the most effective water use and integrated pest management to produce their beautiful and delicious apples.
What started as a hobby has evolved into a successful business. The 7-acre orchard structure consists of a high-density dwarf system, which has grown from its first planting of 500 trees to 4000 trees today.
---

Wilson's Orchard
In 1980 the former owners fell in love with the land and set to work building an orchard of apples that tasted like apples should.
When Paul Rasch and Sara Goering took ownership in 2009, they continued their work of caring for over 120 varieties planted over the years, all chosen based on one simple criterion: great taste.
Wilson's is a U-Pick apple orchard located just North of Iowa City along Rapid Creek. The orchard is 80 acres of rolling hills nestled in old oak forest.
At Wilson's you will find all kinds of apples – big ones, small ones, green ones, yellow ones, and purple ones – each with its own flavor and texture.
Other deliciousness you will find at Wilson's orchard is their apple cider (which you can get in slushy form!), apple turnovers, and apple cider donuts, and they grow pumpkins.
Let's not forget they started bottling hard cider in 2015 and in 2017 they opened Rapid Creek Cidery.
If you haven't been, you need to go.
It goes without saying that the atmosphere and cider are incredible, and the food is spot-on delicious. It's compliments of Chef Matt Steigerwald (who you might remember as former owner of Lincoln Café).
---
As with all our local growers the best part is, your support of their produce is support for local food and a strong local economy.
New Pi is proud to support these local growers and bring you the fruits of their labor.
Grab an apple and take a bite!