From the Blog
Sustainable Alaskan Seafood from One-Boat Troller Point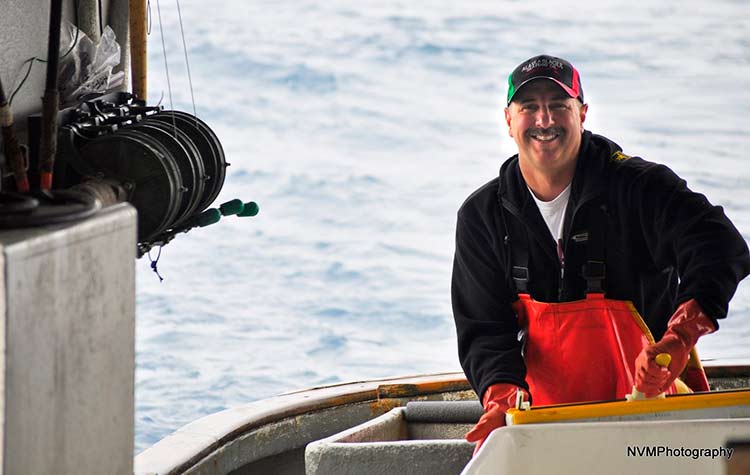 Mark aboard their one-boat operation, Ocean Oasis
Meet Mark from Troller Point Fisheries, a one-boat Alaskan fisherman who's kept us stocked with 100% sustainable seafood for over 15 years! "Can you hear that bell ringing?" Mark Hofmann asks over the phone, his voice competing with the commotion and jingling in the background. He's aboard his 52-foot fishing boat, the Ocean Oasis, off the coast of Alaska, happily within cell phone range so we can avoid his crackly satellite phone.
"The bell's called a 'tattletale' because it gives away that there's a fish on the line," Mark explains over the phone, as one of his two deck hands attends to it.
"Generally our fish is out of the water and into the freezer in about half an hour," he estimates. "You can't mimic the quality of a fish that's been caught and frozen at sea within an hour of harvest – there's just no substitution for it."
Hook & Line: True Sustainability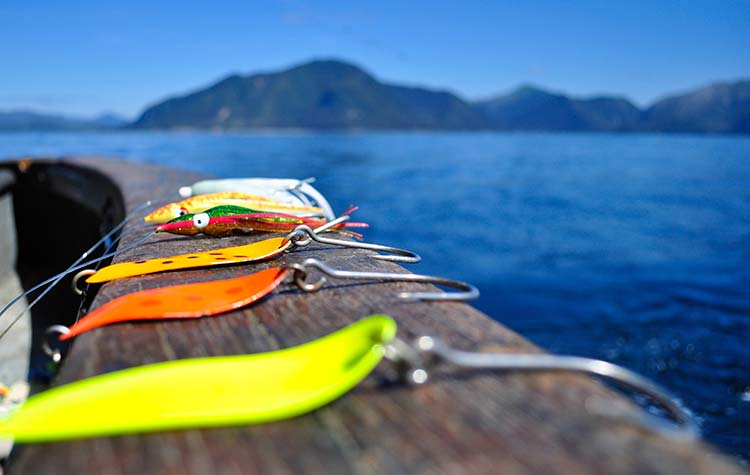 "The way we fish for salmon is hook and line – and it's pretty unique in the world of catching fish," Mark explains. We catch our fish one at a time: "It's kind of glorified sports fishing. We put out shiny little spoons or things that imitate a herring or sardine called a hoochie [right], all of differing colors."
They put the lines in the water at 4AM every day, staying on the boat for weeks at a time. Sometimes Mark's two-person crew consists of his two kids, both currently in college, and he loves when they're working with him. A former New Pi meat and seafood staffer, Clay, went to work on his crew and, unbeknownst to Mark, sent back word that the captain does everything top-notch: as good as it can get.
Sazerac Cured Salmon (easy recipe below) with local Milton Creamery's Quark on New Pi Pumpernickel
Yesterday Mark's team brought in 159 Coho salmon — up to 900 pounds of fish. Trawl fisheries, on the other hand, use large nets to catch massive quantities of fish: 50-100 thousand pounds in a day. A trawl fishery also catches all kinds of things they didn't mean to catch, however. Just given the quantity difference – not even considering the sustainability difference – "You can imagine the quality difference. With us, they're handled one at a time, cleaned, pressure-bled, frozen right away – in comparison with a troll boat processing tens of thousands at a time."
There's a reason some Midwesterners – particularly those over the age of fifty – aren't fans of fish: "Historically, processors used the Midwest as a dumping ground for crappy fish," which explains a lot. Folks would find that "it was smelly and tasted bad, and they were right! When it was going bad, processors would freeze it and ship it [to the Midwest to] off-load it." He continues: "It's the time between when it was caught and when it was frozen that's so important for quality."
In the seafood marketing industry, Mark explains, "there's a lot of intentional confusion," particularly around sustainability. We at New Pi understand this, which is why we take the burden of seafood sustainability research off your shopping list. We've verified that every item in our seafood case is actually sustainably harvested.
"Alaska manages fisheries so well," Mark praises. "And a sustainable yield is their first priority," ensuring there are plenty of fish for a healthy aquatic ecosystem.
One Boat, One Family
Mark's wife Dianna, back on dry land in Alaska, "takes care of all of our bookwork and orders. It's a key part." Fishing for a living is truly a lifestyle: "Right now is the toughest part of the year for us not getting to see [each other]. This year I left in June and I'll see her again in late September for a couple of days. It's a pretty long time apart." Winter gives them time: "We sell fish off the boat for five weeks or so and that's fun because we get to be together."
"When we're selling fish off the docks, people think we can't possibly [go out fishing at sea] in this thing." Their fifty-two foot boat, "built at the Little Hoquiam Boat shop in Washington, is a wonderful boat; we fish all our species with just one boat." Most of the time it's pretty steady, but "In the wintertime the weather can be pretty violent – if we're in 25-foot seas, that's only by accident. Yesterday the weather was anything less than pleasant, pouring down rain, blowing 15mph. If anyone had any idea what it takes to get their fish, they'd think it was a deal!" The day we talk it's gorgeous, however. He sends me a photo from his "office window" to show off the mountainous view.
Their small business gives them plenty of room to stretch their arms: "I love the freedom of what I do." Yet their size does work against them: "There are pretty huge fisheries in the world knocking on doors, [undercutting] prices." Large fisheries can up the price on a few specialty items people are willing to pay more for, so they can lower prices on key items to claim contracts.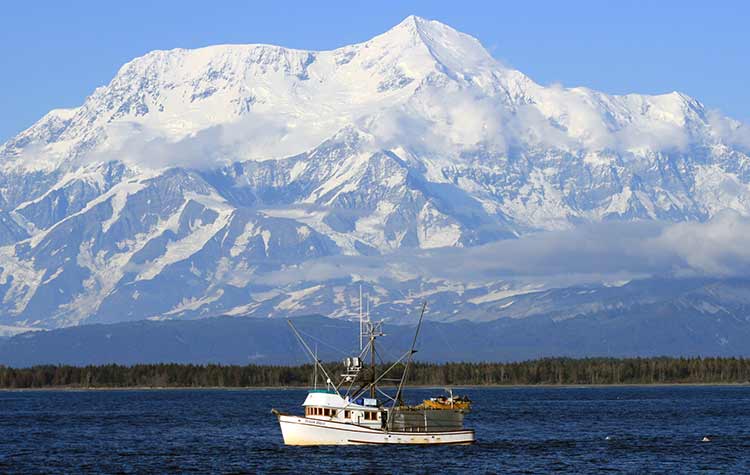 Mark's Ocean Oasis in Icy Bay, Alaska with Mt. St. Elias
That's part of why New Pi's long relationship is so important to Troller Point:
"We've really enjoyed working with New Pi for the last 15 years. When I started out, I based the business model on a market that would hopefully stick with me as a producer."
Other than selling off the boat in wintertime, Mark sells to food co-ops: several of our sister food co-ops in Kansas, Indiana, and Austin. We appreciate our relationship with him just as much as he does with us:
"It's rewarding knowing that the fish is going to a beautiful facility and loyal customers, and that it'll be appreciated!" Even when you know it, it's nice to hear it: "It's a source of pride."
Cooking advice from the fisherman's mouth?
"Keep the heat low. Never ever turn the heat up when cooking fish; it just cooks so quickly. You'll see the protein come to the surface (people think it's the fat but it's actually protein) – it might take 10 or 15 minutes. When the thickest part starts to change color and everything around it is cooked, pull it off the grill and it'll keep cooking. If you overcook it, it just gets dried out. Keep the heat low to medium and you'll get so much flavor."
You wouldn't believe how easy it is to cure fish at home!

Scandinavian gravlax is just a starting point, or "the vanilla ice cream of fish cures," per the recipe author. Try this flavorful whiskey, fennel, and lemon-cured salmon on New Pi's pumpernickel with local Milton Quark and fennel fronds as shown above, or in a fresh salad of local greens, thinly sliced fennel bulb, and lemony vinaigrette.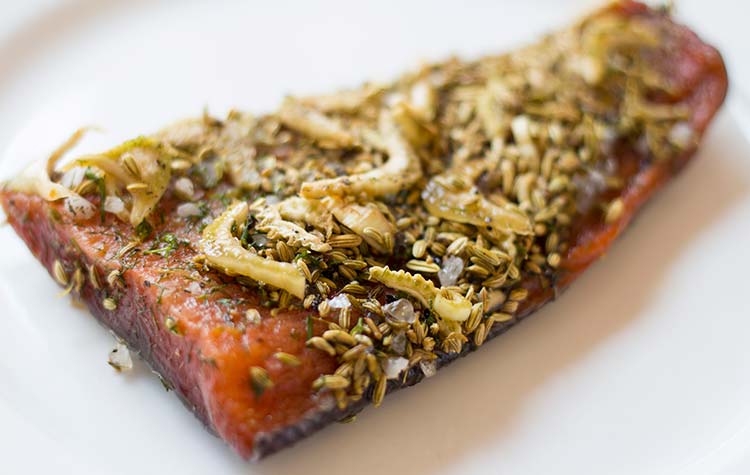 Sazerac Cured Salmon
Adapted from Debbie Lee's recipe for GQ
1 lb. salmon fillet (1"-thick), skin on and bones removed
2 t. rye whiskey
1 c. coarse sea salt
1 c. light brown sugar
1⁄4 c. finely chopped fennel fronds
zest of one lemon
1⁄2 fennel bulb, thinly sliced
1⁄4 c. fennel seeds, lightly toasted
2 t. ground black pepper
Baste the fish with the whiskey on a plate. Whisk together salt, sugar, fennel fronds, and lemon zest in a bowl.
Place plastic wrap thrice the width of the salmon fillet on work surface. Make a bed for the salmon with half the cure and top it with the salmon, skin side down. Cover with remaining cure, pressing down firmly. Toss fennel slices, fennel seeds, and pepper in a bowl. Sprinkle evenly across the top of the fish.
Wrap the fish tightly in plastic wrap and place in a sealed gallon-size storage bag. (The fish will leak fish juice, so you want it sealed well.) Refrigerate for 2 days.
After 2 days, rinse the fish with cold water to remove excess salt. Pat it dry, slice thinly, and it's ready to eat.