From the Blog
Stress Assistance with Gaia Herbs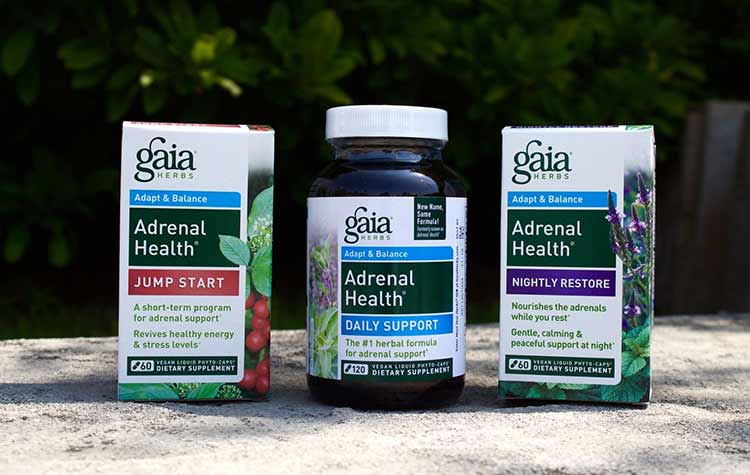 Our wellness team at New Pi really loves Gaia Herbs. Why?
Gaia formulations incorporate herbal traditions from around the globe (learn a bit of the history of the herbs in their formulations by clicking their linked names below).
One of our favorite blends is Adrenal Health Daily Support, intended for daily use to maintain a healthy stress response for overall health and wellbeing.
Gaia's philosophy is "Stress happens – adapt to it," and they believe:
"Supporting the systems that aid the body in reacting and normalizing as stress occurs is critical in maintaining a healthy response to stress. Adrenal Health Daily Support provides nourishment to the adrenals with a unique combination of pure and potent extracts,"
including Holy Basil, Ashwagandha, and Rhodiola to address both the physical and emotional effects of stress. Gaia offers several products designed to address adrenal health, including their Adrenal Health Jump Start – 2016's Better Nutrition 'Best of Supplements' Award Winner.
As opposed to drugs, Better Nutrition points out:
"Many herbs are actually food components – spices and food flavorings,"
says Mark Blumenthal, founder and executive director of the nonprofit American Botanical Council.
'They have more of a history of use in the food domain than as a medicinal agent.'"
Per Gaia, Adrenal Health Jump Start's: "blend of herbs, including Ginseng, Cordyceps, and Schisandra berry, is the perfect antidote to exhaustion and stress."
Finally, for an adrenal nightcap, Gaia's Adrenal Health Nightly Restore is formulated around the idea that
"as you sleep, your body repairs and restores itself. Adrenal Health Nightly Restore helps maintain the body's systems that support a healthy response to stress... Magnolia bark calms occasional nervousness and supports sleep. Other botanicals such as Lemon Balm show promise in research studies in promoting a sense of calm in the body."
In addition to those 2 botanicals, it also includes Mimosa Tree Bark, Reishi, and Vervain.
Gaia suggests starting with 6-8 Adrenal Health Jump Start to get things going, and then switching to Adrenal Health Daily Support, adding Adrenal Health Nightly Support for optimum results.
Hungry for more information?
Stop by your Co-op and ask any member of our wellness team, or check out Gaia's website for in-depth discussions on formulations and the herbs that go into each of their products.
*These statements have not been evaluated by the Food and Drug Administration. This product is not intended to diagnose, treat, cure, or prevent any disease.*