From the Blog
Robert's Fondue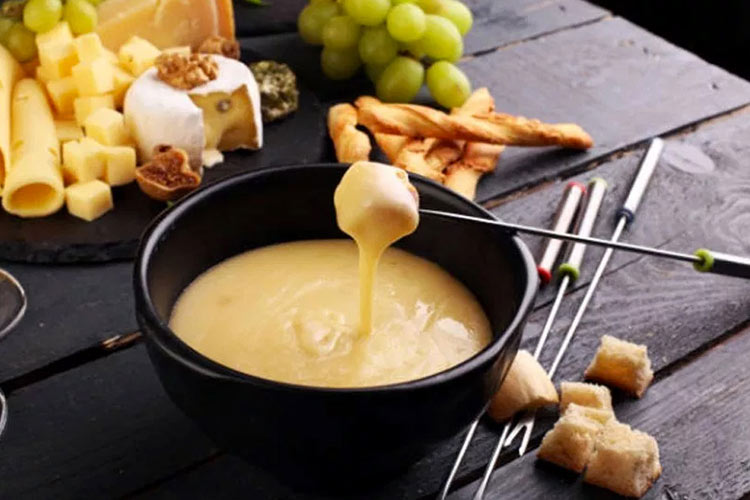 Did you hear about the Cheese, Glorious Cheese, Spectacular Sale we are hosting this weekend!? It is $5 off $25 of cheese at your Co-op this Saturday & Sunday (Dec. 30 & 31), just in time for your snuggle-in romantic and cozy New Year's celebrations.
Our friend, wine importer, former staffer, and food guru Robert Morey shared this brilliant recipe with us in the Co-op's newsletter years ago. This classic recipe gets dusted off year after year at my house because it's simply divine!
He suggests pairing it with a beautiful white wine from the Alps, the Jean Perrier Savoie Abymes, particularly attuned to fondue . . . and it's only $11.99 at your Co-op!
He also suggests the Millet Colombard/Ugni Blanc or Richemer Piquepoul at $9.99, or for accompanying reds, he notes something from the Rhône Valley would be good and hearty in these bone-rattlingly cold days, like the Domaine Coulange Côtes du Rhône, either "Mistral" or "Rochelette" (around $12).
Or for an especially elegant and delicious red, you can't go wrong with the Illahe Estate Pinot Noir, where they use sustainable growing methods and harvest the grapes the old fashioned way – by cart and horse – and the wine is $23.99 at your Co-op.
From Robert: What's the most romantic dinner for two on a cold night?
You got it, fondue.
What's the friendliest, most convivial meal for a gathering of friends on a cold night?
Right, it's fondue again.
Let's face it, there is no meal that warms the heart in the same way as fondue.
It's simple, it smells divine, and the act of taking turns dipping into molten cheese fosters a singular – even mysterious – bond among diners.
Before you do it, Fondue it!

---
Robert's Fondue

Ingredients:
1 lb. cheese (I use Swiss Gruyère and Emmenthaler, with a little bit of the spicier Appenzeller)
3 T. all-purpose flour
1 split clove garlic
1 c. white wine
1 t. lemon juice
1 t. (or more) freshly cracked black pepper
2 dashes nutmeg

Directions:
Shred all cheeses together in a bowl and then toss with flour. Rub the fondue pot with garlic.
Heat wine in the fondue pot over the stove until almost boiling.
Add lemon juice.
Add cheese to the pot by heaping handfuls. Continue stirring, adding more cheese as it melts, until your bowl is empty and your fondue pot is full.
Cheese will continue to thicken.
When cheese reaches the consistency of a creamy sauce, add pepper and nutmeg.
Remove pot from stove over to its little burner.
Serve with a large bowl of crusty New Pi hearth bread cubes (and vegetable pieces, if you like.)