From the Blog
Your Co-op Cart Personal Shoppers
Meet the folks who shop for your online groceries. You may recognize them from around the Co-op – they are seasoned New Pi staffers that can pick out produce to perfection and would be happy to take care of the shopping for you.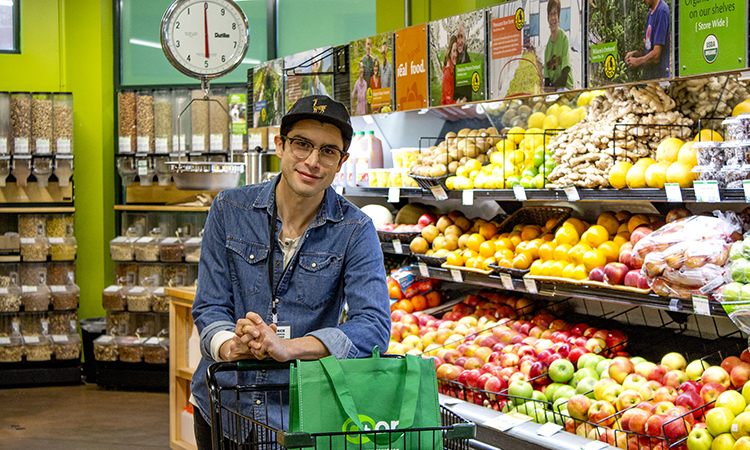 "I want Co-op Cart to be a pioneer in a greener E-commerce program. " – Derek

Meet Derek.
He is a personal shopper at our Coralville store ensuring each order is picked to perfection. He is a transplant from the south is and is ALWAYS freezing in the Midwest, loves to sing & dance, is passionate about environmental activism, and is a pop music artist. When you see him at the store, talk to him about John Carpenter films, Disney Theme Parks or his love for local produce & garlic naan.
---

"Co-op Cart is so user-friendly, we can connect with our customers and help every step of the way to make sure they are 100% happy with their order." – Abbey

Meet Abbey.
She is a personal shopper in our Cedar Rapids store gathering your groceries with precision and a personal touch. For Abbey, food is a passion – she loves to cook and bake. She is always exploring new recipes and LOVES the cookbook "Salt, Fat, Acid, Heat" by Samin Nosrat. When you see her in the store, talk to her about country music, growing up on a farm, or her rescue beagle, Rainy.
---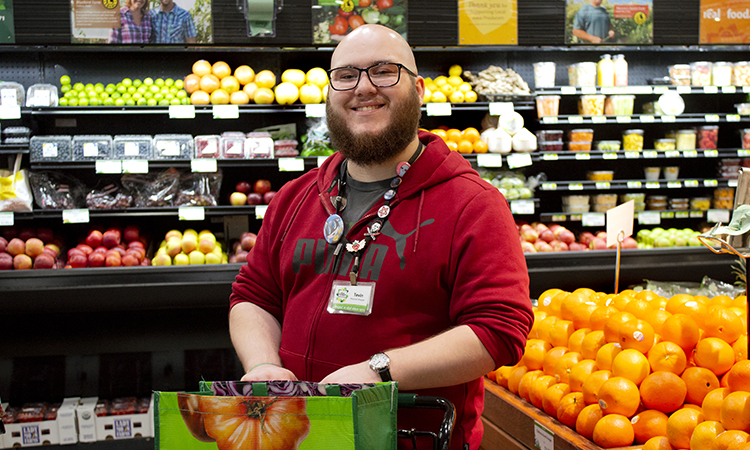 "I just want to watch the future happen. Having more options for customers that cater to a wider audience is part of that future in my eyes." – Tevin

Meet Tevin.
He is a personal shopper in our Iowa City store delivering your hand-picked groceries with a joke and smile. This self-proclaimed "video game nerd" collects pop culture paraphernalia, loves Chinese food, pasta and Virgil's Root Beer, and is notorious for making people laugh. When you see him at the store, (psst…he's the guy with the pin collection on his lanyard) tell him your favorite band. He has eclectic taste in music and is always looking to add more to his repertoire.
---

"I have always enjoyed assisting & helping people find items they are looking for whether they are common or unique. I really enjoy making people's lives easier & being able to recommend items I think they might enjoy." – Melinda

Meet Melinda.
She is a personal shopper at all three of our locations ensuring that you get the products you want exactly the way you want them. She is a wonderful storyteller – did you know she saw the Bee Gees in all of their white jumpsuit glory as her first concert & participated in the cow chip throwing contests at the Iowa State Fair? When you see her in the store, talk to her about her two cats, Albert & Luna, ask what the best dipping sauce is for our popcorn tofu, or ask for product recommendations.
---

See for yourself.