From the Blog
Our Top Ten Spring Wines + Best Cellars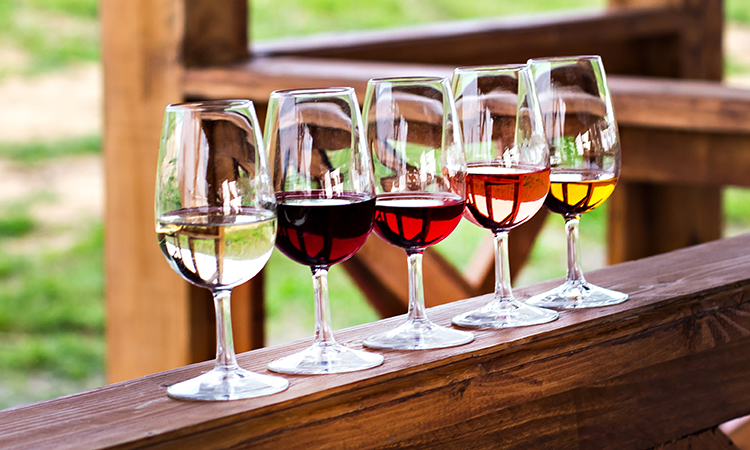 IOWA CITY & CORALVILLE WINE PROGRAM
Our wine buyers taste every single wine, bringing only the finest bottles to our shelves – no matter the price.
Our tasting group rounds up the cream of the crop for a Top Ten every other month, writing thoughtful descriptions of each so you're sure to take home a winner for your unique palate.
---
Bolgheri Tuscany, Italy
French vines were first planted in Tenuta dell Ornellaia, (an estate that had been ignored for decades) in 1981 by Marchese Locovido Antinori, with the help of famous agronomist Andre Tchelistcheff. Cabernet Sauvignon and Merlot combined with the native Sangiovese make this "Super Tuscan" both charming and opulent. So complex and layered, the red fruits are surrounded with silky textures and fine tannins. This wine has so much going on; and will pair effortlessly with many dishes. But do try it all by itself so you can experience the full spectrum of all the flavors, textures, and sensations this Super Tuscan offers.
– Miss Nik, New Pi Iowa City Mistress of Wine & Cheese
---
Maule Valley, Chile
Venture outside of your comfort zone and try this old vine Chilean Cabernet Franc. Garage Wine Co. specializes in reviving old vineyards in the Coastal Range Mountains of Chile closer to the Pacific. These carefully selected vineyards are owned and cared for by small vignerons who farm the "old way" – originario. These parcels are dry farmed, hand harvested, and the fruit vinified with native yeasts. The result is a rich, full bodied, inky wine expressing a wild character and a gracious spirit. Enjoy with grilled steak and salad.
– Mercedes, New Pi Coralville Specialties Lead
---

Dominio de Pingus PSI 2018
Ribera del Duero, Spain
The first words I was able to muster upon the first sip were "Gosh, this is so much my thing." We have here a flawless, impeccable Ribera del Duero with more attributes than my poor penmanship can describe. This is up there with the first league, a step up, stunningly exotic, pure, and downright exquisite. Serve this for a memorable, elegant occasion with a feast of game meats, roasted vegetables, fresh salads, or even raspberry pie.
– Mercedes, New Pi Coralville Specialties Lead
---
Napa, California
Some of Napa's top Somms got together to create a Northern Italian inspired elixir meant to pair with the Wine Country's exclusive restaurants. It was designed to be an expensive, impressive, blow-your-mind kinda wine, crafted from the finest Napa Valley Gapes. But then Covid happened and shuttered the restaurants of Napa (and almost everywhere else). This misfortune presented a special opportunity for us here in Iowa! We get to sell this top-notch wine at a reduced price, and you get to enjoy this "One Shot" creation! Friulano, Sauvignon Blanc, and Chardonnay mingle in this aromatic, tropical love letter. Think pineapple, guava, kiwi, with sultry notes of island flowers and a hint of coconut in the nose. Here's your one shot to enjoy this overperformer at this price; once it's gone, it's gone, so don't hesitate!
– Miss Nik, New Pi Iowa City Mistress of Wine & Cheese
---
Rias Baijas, Spain
In our customary and passionate search for the best wine deals; we came upon this glorious Spanish Albariño showing a fresh, floral bouquet and a mouthful of stone fruit flavors balanced with zippy acidity followed by a long, lingering finish. Excellent with sole poached in wine (yes, you can use this deliciousness as poaching liquid), pan seared salmon, or a humble zucchini frittata. 93 pts. DE, 92 pts.WA
– Mercedes, New Pi Coralville Specialties Lead
---
Friuli, Italy
If you are looking for a zesty white to wake up your palate this spring-this is it! Super crisp, with tantalizing pink grapefruit, crisp apple, and lime make this a lip-smacking addition to salty or fried foods, and anything you would squeeze a lemon on (vibrant green salads, or simply prepared white fish). This beauty from Northern Italy finishes with a pronounced minerality, thanks to the gravelly soil in which it is grown. Perfect sipper before dinner to arouse your senses.
– Miss Nik, New Pi Iowa City Mistress of Wine & Cheese
---
Napa Valley
100% Napa Valley Cabernet Sauvignon. Ripe and chewy. This wine opens with a flawless dark plum, blueberry nose with hints of tobacco. Goes on to offer a big blackberry, cassis mouthfeel and ends with a refined, juicy finish. Pairs well with friends (6 feet apart) around a smoldering fire pit.
– Mercedes, New Pi Coralville Specialties Lead
---
Ribera del Duero, Spain
Classic top quality Spanish Tempranillo! Pours a deep cherry color with violet hues. Opens with enticing aromas of blackberry and currant followed by dark cherry, cassis, and blueberry flavors. This is a well- structured, full body, complex, and not overly tannic dry wine. Perfect with mushroom risotto, mushroom pasta, or paella with spicy chorizo.
– Mercedes, New Pi Coralville Specialties Lead
---
Reserva, Spain
No restraint here. This is a full body Rioja Tempranillo, modern in style - absent the high acidity and aggressive tannins present in some traditional oxidative styles. It is so very pleasing and a perfect companion to casual dining after a long day's work. Reward yourself with a nice bottle of Spanish wine tonight.
– Mercedes, New Pi Coralville Specialties Lead
---
Marche, Italy
This is a white wine for red or white wine lovers alike. It's got so much going on between the floral bouquet, vibrant mineral driven fruit, and touch of bitter almond in the finish. Colonnara Verdicchio keeps your palate engaged with loads of fresh acidity (think green apples), and a silky texture. This wine is perfect with light seafood dishes, Pasta Primavera, cured salami, and sheep's milk cheeses.
– Miss Nik, New Pi Iowa City Mistress of Wine & Cheese
---
New Pi Best Cellars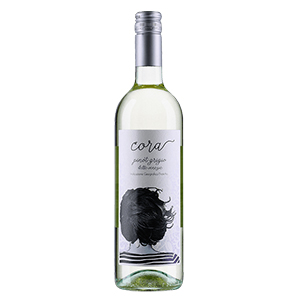 Abruzzo, Italy
100% Estate Grown, certified sustainable juice from a wind and solar powered winery for under 10 bucks? Yes please! Cora is a proprietary label made for David Bowler (New York based importer focusing on naturally made, small batch made wines from around the world) Cora Pinot Grigio is clean and crisp; charms you with citrus and honeysuckle. It makes a splendid companion to lighter pasta dishes, grilled fish, or appetizers.
– Miss Nik, New Pi Iowa City Mistress of Wine & Cheese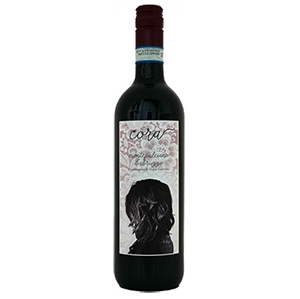 Montepulciano, Italy
Another proprietary label of David Bowler's; this soft red displays plum and cherry fruit, with hints of baking spice. Its medium body, juicy midpalate, and fine tannins make it a versatile food foil, and my new go-to for pizza!
– Miss Nik, New Pi Iowa City Mistress of Wine & Cheese
---
Lombardy, Italy
I brought this Barbera to my friend's social distancing Bon Fire reunion recently and I am happy to report that it paired perfectly with the setting. A bit rustic upfront and totally mellow as it opened up with aromas of fresh red berries and a bit of tobacco and smoke. On the palate, a mouthful of raspberry and cherry with a touch of cassis. Like most Italian reds this wine is versatile and pairs well a wide range of foods, from salads and spicy spreads to wholesome stews.
– Mercedes, New Pi Coralville Specialties Lead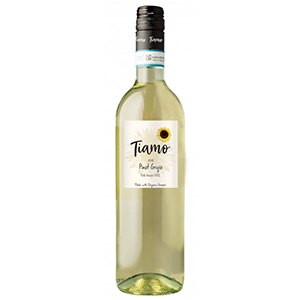 Veneto, Italy
Tiamo means "I love you" in Italian… and we do love our customers. This handpicked, unoaked white wine retains the natural, full brightness of the organic, Venetian Pinot Grillo grape. Lovely aromas lift from the glass with hints of apple, pear, and citrus fruits. The palate feels crisp and fresh. Drink as an aperitif or paired with seafood dishes or gently spiced Middle Eastern themed cuisine.
– Mercedes, New Pi Coralville Specialties Lead
---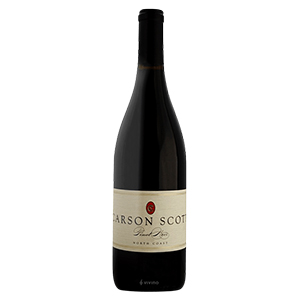 California
Luxuriant, with flavors of cherry cola and licorice, whispers of mushroom and vanilla in the nose, this Cali Pinot overdelivers in the value department! Carson Scott Pinot Noir might have a modest price tag, but you wouldn't know it from tasting it. It's a weeknight wine that you'd be proud to take to company on special occasions. Wonderful with grilled salmon, or roast pork, its also fabulous with any dish with mushrooms and root vegetables.
– Miss Nik, New Pi Iowa City Mistress of Wine & Cheese