From the Blog
New Pi Staff Share their Thoughts for International Women's Day
To kick off International Women's Day, we asked Co-op staff & board members what this day means to them and what they hope gender equality looks like in 10 years. Check out what they had to say below:
What does International Women's Day mean to you?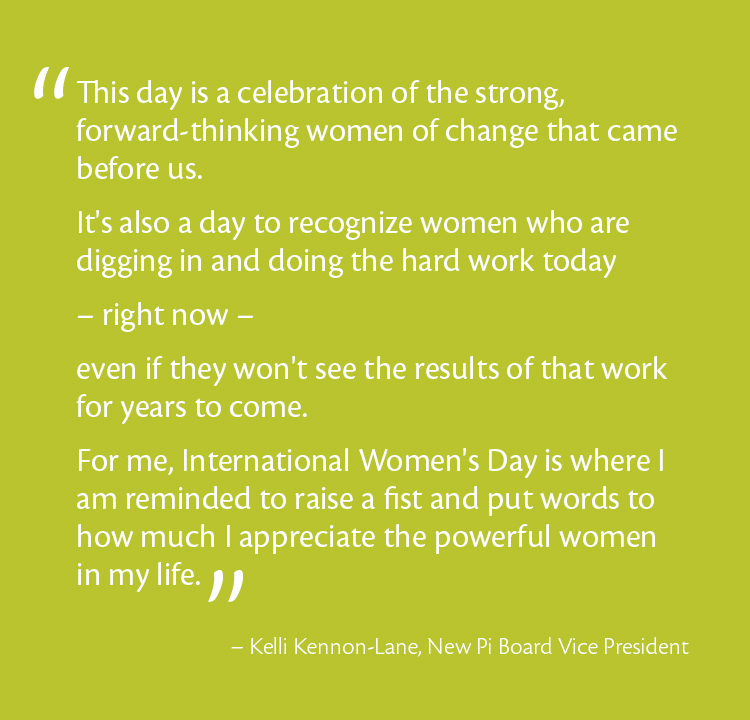 "To me, International Women's Day shines a light on global sisterhood. When it seems like the patriarchy is entrenched and that politically we are not making strides, and in some cases regressing in regard to policies that discriminate against women, it is nice to celebrate all the progress women have made over the past few centuries as well as relish in optimism of the strides we will make in the coming years."
– Linda Fritz-Murphy, New Pi Purchasing Lead

"It's a time to celebrate the accomplishments of women, but also a reminder that women are swimming against a patriarchal culture in which these accomplishments are twice notable because of the barriers most women face."
– Tony Walsh, New Pi Production Manager

"Celebrating women provides some extra stimulus to keep the momentum going in our jobs and lives. Women understand the power of community and that can be the key to success."
– Patti Zwick, New Pi Iowa City Staffer
"IWD is a a time to celebrate the monumental strides women have made socially, politically, and culturally. It's a marked day to bring attention to women's rights and equality. We celebrate the queens who have paved our way, as well as the traction we are making today for a better future."
– Gina Molby, New Pi Assistant Grocery Lead

What do you hope gender equality looks like in 10 years?
"Today I saw a photograph of a young woman named Heaven Fitch on the top of the podium after a wrestling competition. She was grinning from ear to ear, and was the first female to win a state wrestling championship. The three boys on the podium with her looked extremely dejected, and many commenters noted that their loss was compounded and felt more embarrassing since they were beaten by a girl. In 10 years I'd like boys to be able to lose to girls and just be able to think they lost to a more skilled opponent."
– Tony Walsh, New Pi Production Manager

"This is the age of change. I see progress in furthering equal political, social, cultural, and economic opportunities for women. To me, this will look like equal representation in government, equal leadership roles and pay in the workforce, and global equality in cultural customs and education opportunities. However, gender equality is farther-reaching than women's rights alone; I think gender equality will also make traction in more equitable parental leave for men, abandonment of traditional gender roles that our society instills in children, and reducing gender stereotyping, discrimination, and marginalization of both genders and sexual orientation. In addition, gender equality will draw more serious attention and persecution of abuse and sexual harassment."
– Gina Molby, New Pi Assistant Grocery Lead

"I am a new mother, as well as a working mother. The pressures put on women after having a child through birth or adoption is incredibly heavy. Gender equality, specifically for new parents, means a universal progressive parental leave policy that honors the invaluable relationship between the parent and child, as well as the health and wellbeing of the new parent. In 10 years (although it really should not take that long) I hope every organization will adopt a progressive parental leave policy allowing the parent to spend 6 months with their new child at their full rate of pay. Ample research shows the physical health and mental health benefits of an extended bonding period. New data is coming out showing that extended leaves after adding a child to a family actually improves employee retention, as well as organizational culture. It's important that this leave is extended to those in our community that need it most: all women regardless of background, individuals that identify as women, and adoptive parents. Gender equality is caring for all of our people who in turn care for the littlest among us."
– Kelli Kennon-Lane, New Pi Board Vice President

"I certainly hope this means more of a balance of power in our politics, leadership in business, and at the very least earning $1 for $1 what a man earns, regardless of race as well. Also, laws and programs that support women to balance family and work, like flexible, affordable daycare, more flexibility in the working world (such as flexible work schedules and space to work at home) and no question about the access they need to healthcare."
– Linda Fritz-Murphy, New Pi Purchasing Lead

"The struggle for gender equality and civil rights in general is perpetual but my hope is that 10 years from now there is a collective understanding of the cycle of oppression so that we can recognize the warning signs in our systems and not repeat past mistakes. So 10 years from now I hope capitalism has been put in check with principals that put living things before profits."
– Wannette Doerrfeld, New Pi Board Secretary

What's one thing you are doing to help move the needle forward?
"In efforts to improve the status of women in leadership or industries lacking female representation I often ask myself (or aloud, if necessary), "Is there a women who can do it better?" Because if there is, I want her on the project. When women rise, they bring others along with them."
– Kelli Kennon-Lane, New Pi Board Vice President

"Engaging in politics and supporting candidates whose policies address all marginalized communities. Interrogating my own biases and trying to actively encourage the women in my life. Also #Warren2020"
– Tony Walsh, New Pi Production Manager

I surround myself with like-minded women and men of strong character, will, work ethic, and those who have a burning fervor for driving forward women's equality. As professional troublemakers, will will continue to challenge the status quo, speak out, and refuse discrimination. We empower and inspire one another to make change, and have no intention of slowing down.
– Gina Molby, New Pi Assistant Grocery Lead

"Practicing social courage daily while advocating for intersectionality. Whether it's women's rights, LGBTQ rights or Black Lives you can't achieve equality for one without the other. Legislation is important but only part of the puzzle. Dismantling white male supremacy culture requires social courage from everyone daily. I engage in deliberate small actions everyday to disrupt that culture."
– Wannette Doerrfeld, New Pi Board Secretary

"I vote in elections based on the values noted above, and I vote with my dollars as often as I can, supporting the wonderful women owned businesses we feature at New Pioneer and in the broader community."
– Linda Fritz-Murphy, New Pi Purchasing Manager