From the Blog
Mixing it Up: Protein Powders, Collagen Peptides, and Mushroom Powders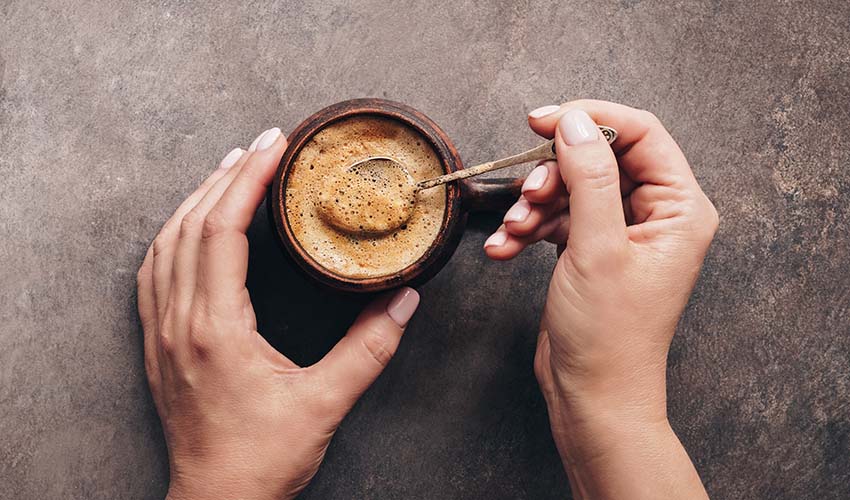 Maybe you've heard about protein powders, collagen boosters and the benefits of mushrooms in your diet – we're here to break down what they are and how to use them.

Four Sigmatic Single Cup (Mushroom) Coffee Mixes
Crash-free coffee deliciously crafted to work wonders on your day.
What's In Them?
Their shade-grown, organic coffee is grown in Colombia. After carefully roasting and brewing the beans, the coffee is concentrated by evaporation, and finished off by spray-drying into a pure instant powder.
Each cup contains only half the caffeine as a regular cup of coffee (50 mg of caffeine) but includes 250 mg of Lion's Mane (for cognitive clarity) or Chaga Mushrooms (for immune support).
Mixes medium and smooth. You'll completely forget the word "mushroom" is on the bag while you're drinking it. You'll remember when you notice you haven't crashed around mid-day.
How to incorporate them:
Mix them with hot water and a splash of coconut creamer (optional).
Mix them with warm water and then add ice.
Mix 2 packets with 1/2 c. hot water stirring until dissolved, then add 1/2 c. milk, 1 T. maple syrup, 6-8 ice cubes, and blend for a cold brew blended coffee.
---

Vital Proteins Collagen Peptides
What are their Benefits?
Promotes healthy skin (hydration and elasticity), hair, nails, and joints
What's in them?
20 g. of bovine hide collagen peptides, 80 mg. hyaluronic acid (sodium hyaluronate), 100% daily value of vitamin C (ascorbic acid)
How to incorporate them:
Use them daily in coffee, smoothies, recipes and more.
Cocoa Berry Smoothie
Blend together:
Top with cocoa nibs or extra cherry and blueberry pieces.
Jalapeño Poppers
Preheat oven to 400°F and spray a baking sheet with an oil to prevent poppers from sticking.
In a small bowl, mix the cream cheese, Monterey Jack, bacon bits and collagen together.
Cut each jalapeño in half and fill them with the mixture.
Bake the jalapeño poppers for 10 minutes. Enjoy while fresh out of the oven or heat up again the next day.

Mojito Mocktail
First, add the collagen powder, maple syrup and lime juice into a pitcher and stir.
Muddle the fresh mint in the palms of your hands to release the mint oils. Add to the pitcher.
Slowly stir in the sparkling water until the collagen completely dissolves.
Top with the rest of the soda water and add ice.
Serve & enjoy!
---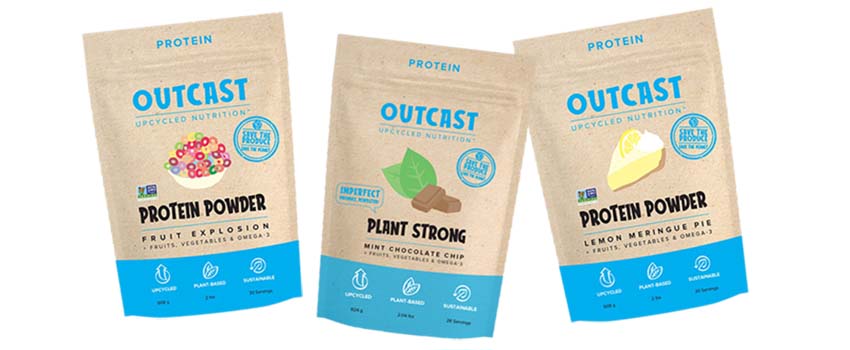 Outcast Upcycled Plant Protein Powders
Outcast's plant-based proteins have high nutrient-density, and are certified organic and vegan. You get all the benefits of protein powder, plus super clean nutrition while helping to save surplus produce from landfills.
Outcast Upcycled Nutrition partners with farmers, processors, and retailers to rescue organic fruits and vegetables that are imperfect or in abundance to create their nutrient-rich protein powders, creating a sustainable, resilient food chain.
They come in a variety of delicious flavors like lemon-meringue pie, fruit explosion, and chocolate mint.
What's in them?
fruits, vegetables and omegas
How to incorporate them:
Protein Energy Bites
Combine and roll into balls:
Lemon Berry Overnight Oats
Combine all ingredients (except for toppings) in a jar or container and allow to sit overnight or a minimum of 4 hours.