From the Blog
Happy Skin for You with Andalou
Open to a new facial care regimen?
Check out Andalou's facial care line! Andalou is the first Non-GMO Verified beauty brand, and a popular choice with our shoppers at New Pi.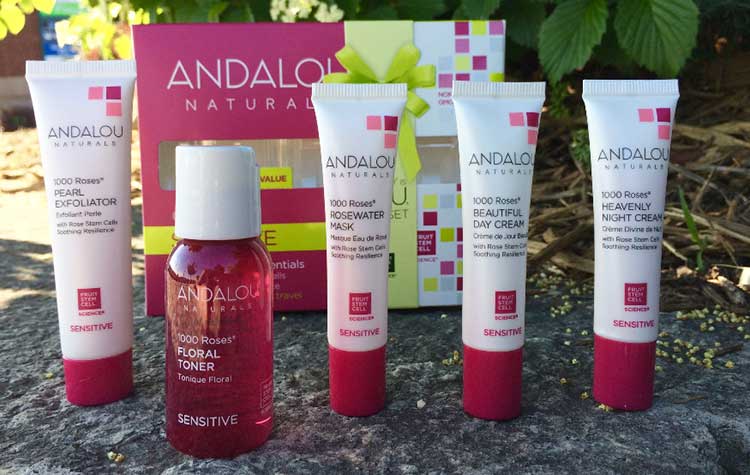 Andalou Naturals 1000 Roses Skin Care Essentials Kit is on sale for $12.99 at all New Pi stores thru Weds., May 31!
Andalou has four categories designed to address a variety of skin types. Whether you have sensitive skin, combination skin, active and oily skin, or dry skin facing premature aging, Andalou has you covered.
Overall, Andalou's 1000 Roses category is their most popular, meant for sensitive skin. If your skin is easily irritated, delicate and dry, or uneven and blotchy, try the 1000 Roses Cleansing Foam and the 1000 Roses Beautiful Day Cream.
Andalou offers "Get Started" Kits with trial sizes on five different products in any of their categories – a great way to find your favorite new products without committing to a full size item right off the bat.
What's most popular at New Pi?
Andalou's Age Defying category, with the Goji Peptide Perfecting Cream and the Hyaluronic DMAE Lift and Firm Cream as top favorites.
A fruit stem cell complex, resveratrol, and CoQ10 act as super antioxidants to help support dermal vitality, while goji glycopeptides uplift tone and texture for velvety soft skin with the appearance of fewer lines and wrinkles for a rejuvenated complexion.
Per Andalou, hyaluronic acid boosts dermal vitality and supports essential building blocks with collagen and elastin for a more lifted, firmer, youthful appearance.
Looking for a solution to oily and overactive skin?
Try their Clarifying products, meant to address congested pores, uneven tone and texture, and blemish-prone skin.
Normal and combination skin can benefit from their brightening products that aid with sun damage, hyperpigmentation, or even just dry patches and T-zone shine.
However, there's no need to stick to the choices in one particular category.
If you love 1000 Roses Cleansing Foam and moisturize with the Hyaluronic DMAE Lift and Firm Cream, that's great.
Try the Citrus Kombucha Cleansing Gel from the Clarifying set, follow with the Clementine + C Illuminating Toner from the Brightening set, and moisturize with the Hyaluronic DMAE Lift and Firm Cream from the Age Defying set.
If you need a little more moisturizing, use the 1000 Roses Absolute Serum before you moisturize.
Keep it simple, or go a little crazy (it's okay!) and feel free to mix it up!