From the Blog
Grass Fed Beef: Good for You & the Environment, Too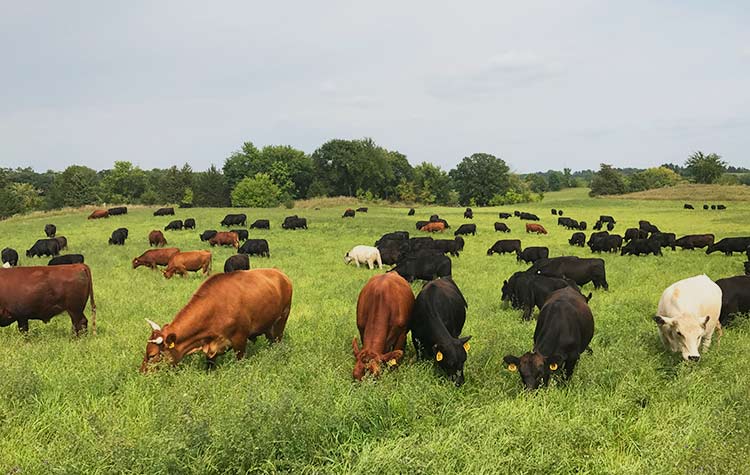 Thousand Hills in Cannon Falls, southern MN, raises 100% grass-fed beef, with their promise: no artificial hormones, no antibiotics, non-confinement, no GMOs, no grain, no grain byproducts... never, ever.
Here at New Pi, we grind Thousand Hills's fresh grass fed beef daily right in our stores.
Having a young family inspired Todd Lein to learn more about his food: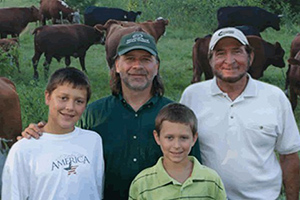 "Where it came from, what was in it, its nutritional value, its affect ecologically, etc."
When he came across Michael Pollan's New York Times Magazine article, "Power Steer," it opened his eyes to how fraught with problems our conventional beef production method is, and "Frankly, how it could be improved through keeping cattle on grass throughout their life."
Todd started purchasing and tasting a great variety of grass-fed beef, which is higher in omega-3s and lower in cholesterol and saturated fat than grain-fed beef, and found:
"Some delivered delicious taste and texture and some, well, let's just say, left room for improvement. I quickly learned that raising delicious 100% grass-fed beef was both a science and an art."
He did his research and soon learned the many reasons behind the variation: "Cattle genetics, types of forage, forage diversity, seasons, moisture, minerals, soils, and many other factors all play a role in raising delicious-tasting, healthful, grass-fed beef."
In 2003, he went all-in:
"I launched Thousand Hills Cattle Co. and was raising 100% grass-fed beef on my farm, and sourcing from local farmers who were already committed to this model of raising beef. We learned from each other as we strived to produce the best beef possible."
Today, Thousand Hills sources beef from small Midwestern independent family farms that must meet the most stringent requirements around: heritage breed cattle raised and finished on a 100% non-GMO, non-sprayed grass and forage diet, in non-confinement, free range rotational grazing environments, and humanely handled with low-stress methods throughout their life.
Here at New Pi, we grind Thousand Hills's fresh grass fed beef daily right in our stores, and we're proud to partner with Thousand Hills for their commitment to the highest standards for flavor, safety, environmental effects, and humane raising methods.