From the Blog
Gene's Tiny But Mighty Popcorn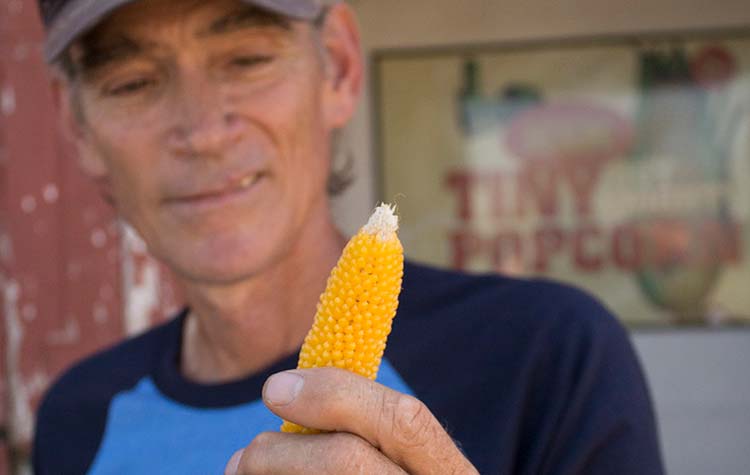 "Talk about humble beginnings!"
Gene Mealhow exclaims.
Tiny But Mighty started as a one-man operation, that "one man" being Richard Kelty, Gene's predecessor.
"Richard would sit there watching the baseball game,"
Gene recalls, filling zip-top bags with corn by the coffee can... A large can for a two pound bag, a small can for a one pound bag – and using tape to make sure the bags stayed closed. "His wife thought he was absolutely nuts!"
As the story goes, the Kelty family either found the popcorn "growing wild, or traded the Native Americans for it," Gene explains.
Each generation passed it down to the eldest son. Richard was next in line, but while he was serving in the military, his father passed away. The corn didn't get planted that year.
When he returned home, his mother asked, "Richard, would you like some of grandpa's corn?" They turned to the pantry to check the family supply.
There sat a single jar – containing a paltry handful of kernels.
Richard took that handful of family heirloom corn and planted twelve rows in the garden.
"At first [the popcorn] was just for the Kelty family. They'd have friends over for card games and serve it.
Friends started asking, 'Can I get some popcorn from your pops?'"
When they all got hooked, they knew they had something special.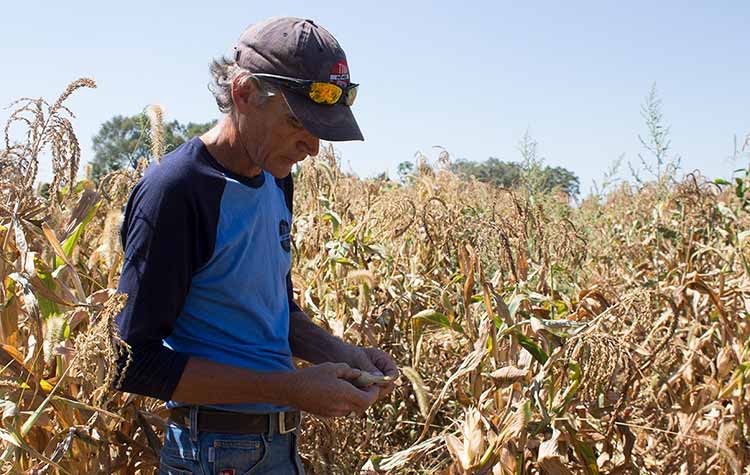 What Makes Tiny But Mighty Popcorn Unique?
Its thin popcorn hulls disappear when popped – they don't get stuck in your teeth (A boon for those reluctant flossers out there!)
Flavor. Many say it's the best you can buy (and considering it almost disappeared, we're lucky we can!) "We are not responsible for your addiction!" Gene laughs.

Popping Yields
Richard Kelty ran a one-man business operation until 1994, when he hired Gene as a consultant to help increase yields.
By 1999, Gene had helped Richard raise yields from 400 pounds an acre to 1,000. Richard, now in his eighties, was looking to sell the business.
The popcorn had survived from the 1800s, but would it make it into the twenty-first century? Heirloom genetics were at stake. Plus, the business had a lot of potential.
After a year of searching for a buyer, Gene was talking up the business he cared about so much to his wife's cousin, who turned the tables on him:
"Why don't you buy it, Gene?"
A week later, Gene tromped into the cornfield to bring up the idea to Richard while he was working.
Richard stopped, hooked his thumbs into his overalls, and turned to Gene:
"I wondered how long it was gonna take you to ask!"

3 is the Magic Number:
3 generations passed down this popcorn.
It's had 3 names: K&K's Specialty Popcorn (Kelty teamed up with his cousin Kramer), K&K's Tiny But Mighty Popcorn, and now simply Tiny But Mighty Popcorn.
Gene is a 3rd generation farmer.
Curious Genes
The corn's genetics were still a mystery, so, curious to know just what they were working with, they sent a sample to a lab at Purdue University to have it genetically matched.
The lab's results? No registered genome, no match. The corn was totally unique.
"It's the only popcorn allowed for people with certain digestive issues (diverticulitis, Krohn's, and irritable bowel syndrome (IBS)) because the hulls just explode into tiny pieces, making the popcorn easy to digest! Besides all that, it's really good."

– Doreen Edmundson, New Pi Coralville Customer Service
Mighty Purpose
How did Gene pop into the picture?
A third-generation farmer himself, Gene inherited his love of vegetables from his mother and her farmstead garden.
After the 1980s farm crisis, Gene's relatives left farming behind, but Gene felt compelled to stay in:
"I bought thirty-three acres and became an organic farmer."
Why the switch to organic?
"All I knew was – I was expecting my fourth child at the time – I'm not going to do the chemical thing."
He explains: "When you're a conventional farmer, you reach a point where you're just sick and tired of being sick and tired."
He dove in, "I got involved in bio-ag and learned Dr. Albrecht's principles and nutrient recycling and all that. I became so interested in it that I wanted to become a consultant and teach other farmers how to do it. Anyway, one of my first customers was Richard."
Gene increased Richard's popcorn yields by focusing on soil systems:
"You've got to understand soils. If you get your soils optimized and you have healthy plants, well, the bugs go to the sick plants."
Gene recognizes the connection between the health of the land and the health of its people:
"It works up the chain: healthy soils, healthy crop, healthy food, healthy people."
Tiny But Mighty Popcorn is grown without pesticides or conventional fertilizers and is kosher and certified gluten- and GMO-free. Most importantly, "You've got to have a higher purpose," Gene explains, both guiding a person and a business. "My higher purpose has always been for [this farm] to be an educational center about biological and sustainable agriculture."
"How you spend your dollar will change this thing [organic versus conventional agriculture] quicker than any research can ever do. Your dollar determines what we do."
History-curious? Find out more about Tiny But Mighty at the Grout Museum in Waterloo, Iowa.
---
DO try this at home:
Re-use small paper bags for chemical free microwave popcorn! Sprinkle Tiny But Mighty popcorn with a little oil (we really like coconut oil) in a small-ish paper bag, roll the top to crimp it closed, and microwave, taking care to stay nearby while it pops.
Topping ideas: the best local butter from Hansen's Dairy (of course), smoked paprika, nutritional yeast, adobo seasoning, or turn the popcorn itself into a topping!