From the Blog
Fresh Strawberry Pavlova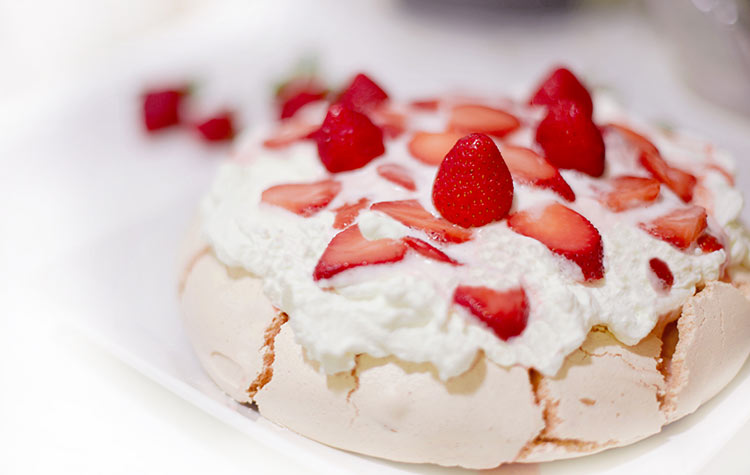 Gluten Free, Irresistible for Everyone
I'd ogled pinup-perfect pavlovas in glossy food magazines for ages before I finally unveiled my first at a family birthday – only to discover my mother'd made pavlovas for celebrations decades before! She was really onto something. Layered textures – crunchy meringue exterior, gooey meringue interior, soft clouds of whipped cream, and fresh, juicy fruit – combine for an absolutely irresistible dessert. Luckily, pavlovas don't "keep" well, a sufficient excuse to eat the whole confection in one glorious sitting.
Meringue is adversely affected by humidity, which can make it difficult to achieve a showy, crunchy exterior if the weather isn't in cooperation mode. A dry day is an ideal meringue day, but know that whether meringue turns out crunchy, soft, gooey, sticky, or light and pillowy: humidity be damned, it always goes down well. Garnish with toasted nuts or chocolate if you like, but it's hard to beat the perfect simplicity of ripe berries and cream.
Irresistible Pavlova
Adapted from How to Eat: The Pleasures and Principles of Good Food by Nigella Lawson
Serves 4 very generous portions, or 8 moderate portions
Ingredients
4 egg whites, room temp
pinch salt
1 1⁄4 c. sugar
2 t. cornstarch (non-GMO from the Co-op)
1 t. white wine vinegar
a few drops of vanilla extract
1 1⁄4 c. heavy cream
fresh strawberries, sliced, or fruit of your preference (such as raspberries, blackberries, or passion fruit) – keep it simple
equipment needed: electric mixer
Directions
Preheat oven to 350°F.
Line a baking sheet with parchment paper and draw an 8–9" circle on the paper. Flip parchment over so the mark is on the bottom.
In an extremely clean bowl (oil residue can prevent the egg whites from forming the right structure), beat the egg whites with the salt until satiny peaks form.
Beat in the sugar, one third at a time, until meringue is stiff and shiny.
Sprinkle the cornstarch, vinegar, and vanilla over the meringue, then fold in lightly with a spatula.
Mound the meringue onto the parchment on the baking sheet within the circle, more or less, flattening the top.
Place in the oven.
Immediately reduce the heat to 300°F and bake for one hour; the pavlova should color slightly.
Turn off the oven and leave the pavlova in it to cool completely.
Optional: Invert the pavlova onto a big, flat plate or cake stand – this inversion makes the marshmallowy middle meld with the whipped cream, and lets the side and the base stay crisp.
Whip the cream to soft peaks and pile it on top, then sprinkle with strawberries.
Enjoy!