From the Blog
Delightfully Clean Products for Your Darling Baby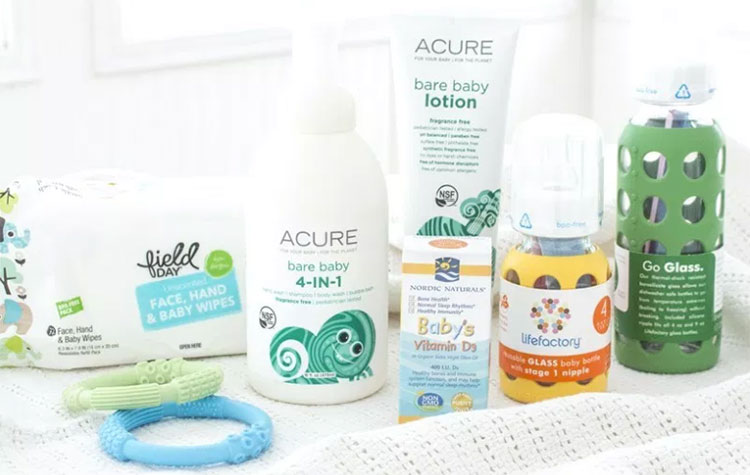 We're happy to take on the burden of seeking out safe, vetted, and well-curated products here at the Co-op for easy shopping for a happy baby and a healthy home.
---
The Easy Choice for Vitamin D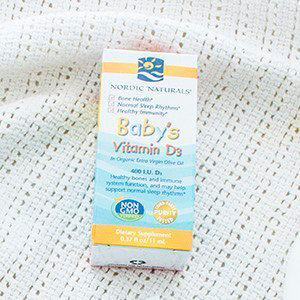 At my newborn's first pediatrician visit, they sent us home with a sample of Vitamin D drops to give her daily. They were from a mainstream baby company, and I followed the directions and gave her a small syringe-full.
It smelled like fake fruit.
Half of it bubbled out of her mouth, sliding down her chin and into the little skin folds of her neck, and it was sticky.
Examining the box: yep, artificial colors, artificial flavors.
Those weren't on my intended list for my newborn.
I checked out the ingredients on the Nordic Naturals Vitamin D drops at the Co-op – Ingredients: Vitamin D, organic extra virgin olive oil. Full stop.
The best part? The tiny bottle contains doses for 365 days because a daily dose is just one drop, given on a pacifier or nipple.
No syringe to awkwardly fill, squirmy baby in arms, no fake flavoring emitting from her gummy mouth, and no sticky overflow to clean up.
Problem solved!
---
Baby Shampoos & Lotions with Organic Ingredients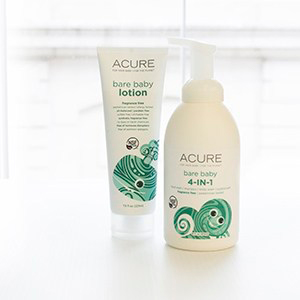 Acure's Baby Lotion rubs in really quickly (helpful for wriggly babies) and finishes dry – not at all greasy – to the touch, while soothing with colloidal oatmeal, cucumber, calendula, shea butter, and olive oil.
Acure's 4-in-1 Foam Pump is all you need for bath time: bubble bath, shampoo, baby wash, and hand soap in one, with organic cucumber, chamomile, and calendula.
Some people have found their moisturizing baby products to eliminate eczema, with no need for steroid creams.
We love that Acure's baby products are designed to be non-irritating for sensitive skin and offer excellent fragrance free options with everything you need, and nothing you don't – they're free of hormone disruptors, sulfates, phthalates, dyes, harsh chemicals, common allergens, and parabens.
They're pediatrician tested, ph balanced, allergen tested, cruelty free (no animal testing), and made with organic ingredients for your baby, and for the planet too.
---
Safe, Sustainable Glass & Silicone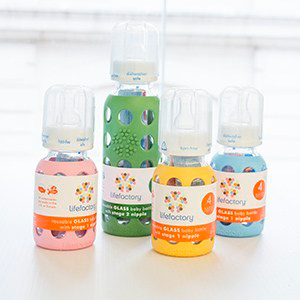 Silicone-protected glass Lifefactory Baby Bottles are special – not just because you don't have to worry about harmful plastic chemicals like BPA/BPS leaching into the milk or scratches in plastic that can harbor bacteria – but because they're made from pharmaceutical-grade borosilicate glass.
This laboratory quality glass gives superior durability that allows the bottle to go from the freezer to boiling water without incident.
Standard glass baby bottles, made with soda lime, can't withstand such extreme temperature changes.
Pumping? You can pump straight into these glass bottles, provided your pump has a standard non-wide-mouth fitting – so you won't have warm milk sitting in plastic (heat increases plastic chemical contamination).
They can go into the freezer and then straight into warm water when it's feeding time.
Their bottles come with medical grade silicone nipples made in France, and I've noticed that they stay looking cleaner than other nipples, without the haze or film that develops on others.
All parts are dishwasher-safe (no need to remove the sleeve) and they're committed to rigorous product testing for safety, durability, and minimal environmental impact.
---
Something Good to Chew On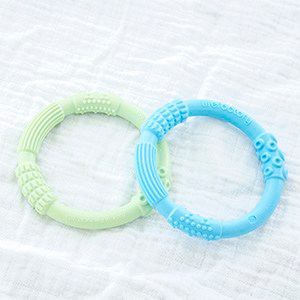 Lifefactory's great Silicone Teething Rings with different textures are designed by a pediatric feeding specialist to develop oral motor skills.
I haven't had a gnaw on them myself, but their texture with just the right amount of give is what I would choose!
Made in Racine, Wisconsin, of medical grade silicone free of BPA, phthalates, PVC, and latex, you can refrigerate or freeze them to soothe sore gums, and they're dishwasher safe.
My daughter loves them.
---
The Natural Choice for Baby Wipes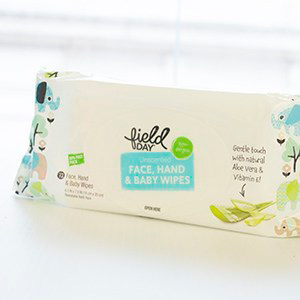 When an expectant friend asked for a recommendation for baby wipes, it was an easy answer: I'd tried six of the more eco-friendly, widely available brands; the two at the Co-op get my vote.
Of course they're free of methylisothiazolinone (MI), the preservative that was in the news for causing rashes in allergic kids, and the Co-op's are designed for sensitive skin and are hypoallergenic, with no dyes, fragrances, chlorine, phenoxyethanol, or parabens.
Field Day's Baby Wipes are extra soft and a little bit bigger so your hands are in the safe zone. They soothe and cleanse while moisturizing with aloe vera and Vitamin E, and they're a great price as part of our Co-op Basics program.
Seventh Generation's Baby Wipes are super sturdy with a charming leaf and duck pattern, and pop out of the package one at a time without sticking together (helpful when the other hand is occupied with the baby!).
Their packaging is made with 25% post-consumer recycled plastic, with a recyclable top flap – a big step forward in wipes packaging.
We wish all packaging was 100% recycled material, but baby steps, right?