From the Blog
5 Sandwiches to Try at Home
Dress up your lunch routine with these 5 sandwich creations from our staff: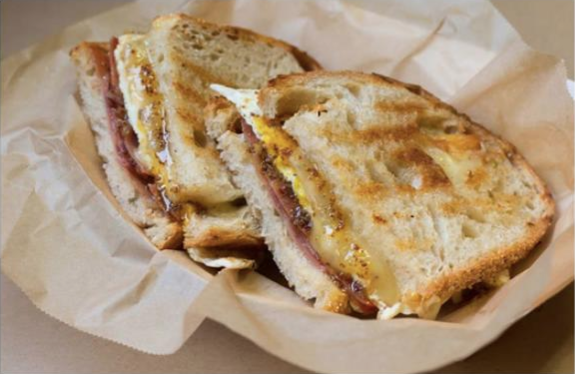 Maple Prosciutto & Egg with Smoked Cheddar
New Pi Sourdough Bread, oven toasted
La Quercia Prosciutto
1-2 eggs, fried
Carr Valley Apple Smoked Cheddar
1 part Boetjes Mustard, 1 part Maple Syrup
Layer toasted sourdough with prosciutto about 2 layers (more if you prefer). Apply maple mustard to prosciutto and add fried egg. Finish with a layer of cheddar slices and top with sourdough. Place in oven at 350 degrees until cheese is melty.
---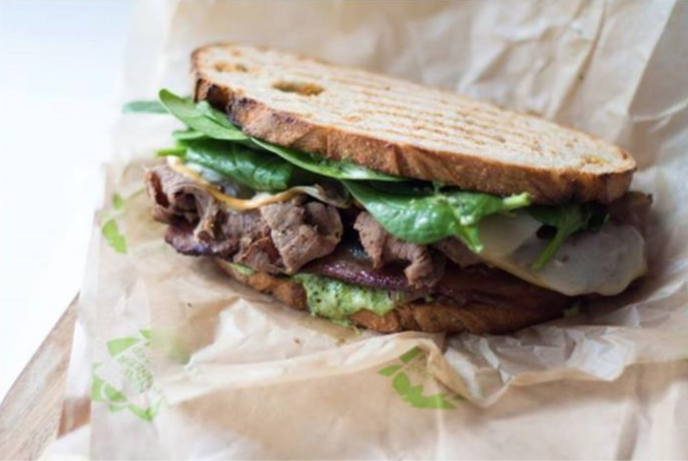 The Green Cow Reddux
New Pi Farm Bread, oven-toasted
Sliced Roast Beef
New Pi Spinach Pesto mixed with Mayo or Vegenaise
Bacon, fried
Shullsburg Smoked Provolone
Spinach
Spread New Pi pesto over both slices of toasted farm bread. From bottom layer bread, pesto/mayo, bacon, roast beef, smoked provolone, spinach, pesto/mayo, bread.

---

The Purple Hummus Wrap
Oasis Falafel Hummus
Organic Greens LLC Sprouts
Spirit Creek Farm Purple Sauerkraut
Red Bell Peppers, sliced
Spinach
Cucumber, diced
Stacey's Whole Wheat Tortilla
Spread Oasis hummus liberally over tortilla. Layer tortilla with diced cucumber, kraut, sprouts, peppers and spinach. Fold in two ends and roll.
---

Grilled Tempeh & Kimchi Melt
New Pi Farm Bread, oven toasted
Marinated Tempeh
Kimchi
Organic Greens LLC sprouts
Vegenaise or Mayo
Shullsburg Swiss – hold the cheese to make it vegan
Layer farm bread from the bottom with Vegenaise (or mayo), tempeh, swiss (if you'd prefer at this point, place in the oven to warm tempeh and swiss), kimchi, sprouts and veganaise. Top with farm bread.
---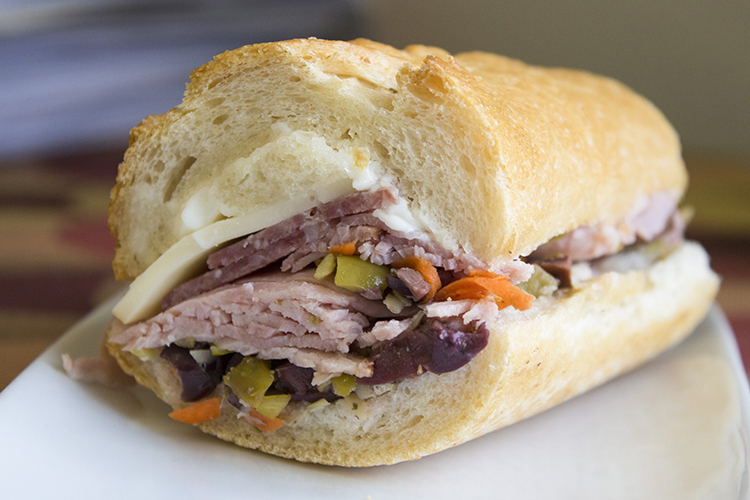 The Muffaletta
New Pi French Baguette
Salami
Beeler's Pure Pork Ham
Pepper Jack Cheese
Smoked Provolone
Jalapeño-Olive Relish (muffaletta salad)
Slice baguette to desired size and through the middle. From the bottom, layer bread with relish, ham, pepper jack, salami, and provolone.