Co-op Cart FAQs
Co-op Cart FAQs
If you're new to online grocery shopping, our FAQs will walk you through
everything you need to know or might be wondering.
Click on the links below or scroll through our question and answer section.

Click here to open Co-op Cart in a new window.
---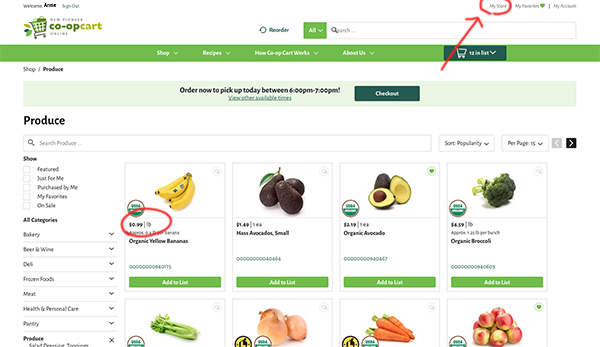 In order to view pricing, you will need to select a store location. In the top right corner of the Co-op Cart site, you'll find a "My Store" link. Click on this link to view our store locations page. Choose the store you would like to pick up groceries from and click the dark green "Make this My Store" button. You can change this at any time, but by selecting your preferred store, you will see the most accurate offerings, pricings, and pick up times for that location. From here, just click on the "Shop" link at the top to start shopping.
---
You're in good hands – because we are too. Our personal shoppers are seasoned New Pi staffers and will pick the best item to fit your needs. Just select your preferred ripeness in the product dropdown or leave them a note.
---