Pheasant Run Farms
Pheasant Run Farms
Type: Farm
Produces: Flowers & Ginger
Location: Van Horne, IA
Miles from Coop: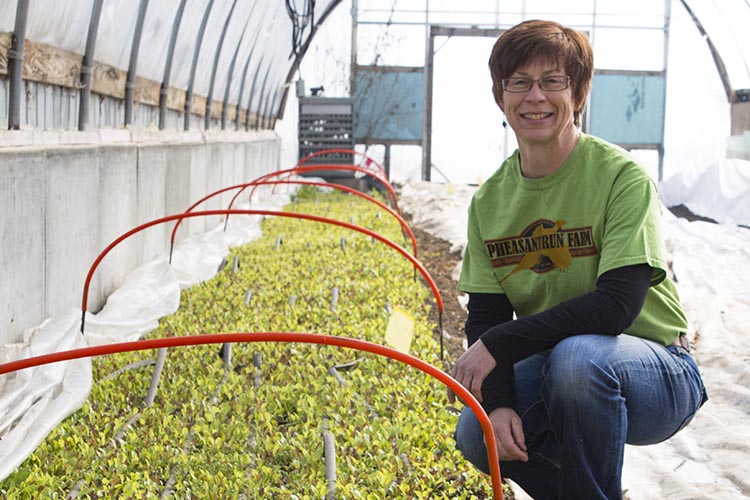 "It all started because my husband didn't like to see an empty greenhouse,"
Ann Franzenburg recalls.
"He's the one that really encouraged me to start growing cut flowers. Initially I was like, really? Can you make your living growing flowers? That'd be cool – but can you really do it?"
Ann and her husband Eric grew up on Iowa farms, and after nearly twenty years of farming themselves, they're experienced problem-solvers.
"It takes a little bit of insanity to be a farmer," she admits, but "I guess it's my dream job."
Here in Van Horne, Iowa, their family's growing organic salad greens, ginger (Yes, ginger! In Iowa!), cut flowers, mini snacking peppers, slicing and grape tomatoes.
Ann digs deep:
"There's some soul to farming – really, when you farm, it's an act of hope. I have a little quote in my kitchen that says: 'To plant is to hope in the future.' That's kind of what it is. You never know what's going to happen."
They're proud to provide healthy food for people to eat, grown with integrity and sustainability.
Greenhouses extend their growing season and protect their hard work. Theirs are warmed with subsoil heating – like radiant heating in homes – to heat the soil rather than all the air, more efficiently.
And they've been recycling since "before it was cool."
They love to find recycled equipment at auctions:
"If Eric has a hobby, that would be it. He'll call me up: 'I just bought three greenhouses!'"
"It's pretty cost effective to do it this way – we do the work ourselves."
When asked what keeps Ann going on a day-to-day or a year-to-year basis, it's clear:
"It's all about flowers! When I get to the point in the season when I can finally start cutting flowers, that's the best. My grandma and grandpa on my dad's side of the family were big gardeners, and their yard was featured in Better Homes and Gardens magazine, so it's kind of in my blood,"
she laughs.
Working with flowers connects her to her roots:
"Flowers are food for the soul. The fragrance, appearance… it's nice to spend the day cutting flowers for people to love them, and put a smile on their face."
Ann and Eric live close to the Van Horne farm Eric grew up on, and his supportive parents – emphasizes their care for the land:
"That's where the soul of the farm comes in, because you have the soil you take care of, and it's always going to be there. It can't be exported; it's going to stay here."
"Eric and I both agree that even if we don't pass this farm onto our kids, whoever it goes to next will have a good soul (soil) base to build on to get started in their farming career."
---
Other Local Producers
Be sure to check out these others great local producers!