Local Burrito
Local Burrito
Type: Food Truck
Produces: Burritos
Location: Iowa City, IA
Miles from Coop: 2
"We off-set all our energy production costs with 100% wind power, so Local Burrito is a 100% renewably fueled company!"
Entreprenuer Kyle Sieck's proud to share.
His frozen burritos, (Heartland Burritos) in the freezer section at the Co-op, come with an extra helping of thoughtfulness: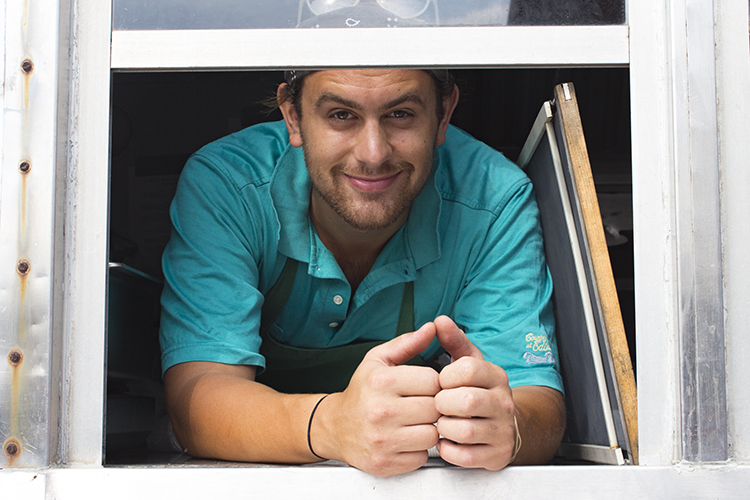 "We work with local farmers – half a dozen or more local producers, for local ingredients that taste better, have higher nutrition, and smaller ecological footprints.
"At least 80% of our ingredients are local, and 90% are organic. We're not quite perfect, but we do our best."
"Our burritos combine international flavors with Midwest simplicity--pulling inspiration from Asian and Indian cultures while creating recipes that match the Midwest palette."
"We are the most sustainable frozen burrito that you consumers will find for the Midwest market!"
Kyle got his start in local foods selling produce for Echollective Farm & CSA at the Iowa City Farmers' Market, where he craved something more nutritious in the morning than egg rolls and baked goods (the only ready-to-eat foods at the market at that time), so, he started his own business.
You'll now find him in his truck-side taco bar at markets around town, and catering as well as churning our tastry frozen burritos for the Co-op.
Kyle Sieck is invested in the benefits of empowering local communities, local markets, and reducing local food production costs.
"I'm really interested in mentoring and sharing information with other food producers to help them ramp their production up. Making a living supporting farms that heal the planet while serving people healthy food has become a mission, a full plate, and a way of life."
---
Local Burrito Products
Checkout these great products from Local Burrito
---
Other Local Producers
Be sure to check out these others great local producers!