Herbivorous Butcher
Herbivorous Butcher
Type: Vegan Butcher
Produces: Vegan Meats
Location: Minneapolis, MN
Miles from Coop: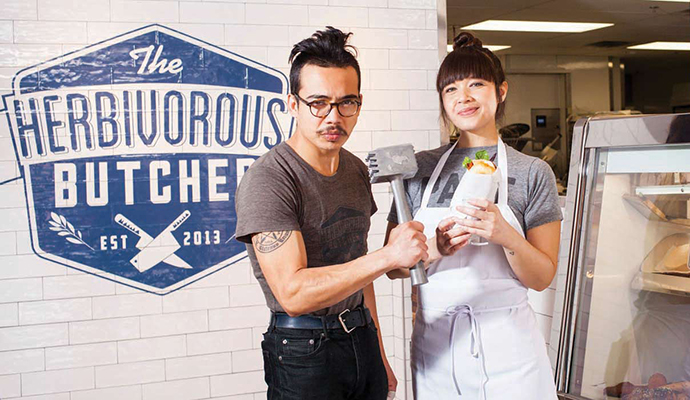 Whether you're a non-meat-eater or just want to make your Mondays a little more meatless, we just added to our lineup of local vegan Herbivorous Butcher items.
Check it out!
Deli slices, new ribs, new cheeses, Herbivorous Bacon!
"Our bacon makes breakfast a snap, and great BLTs for dinner – or use them cooked and crumbled over salads. Yum!" – New Pi's Kim P.
Founded by a sister-brother duo in Minneapolis, this vegan "butcher shop" has gained incredible popularity (featured everywhere from the New York Times to The Guardian to The Splendid Table), and now they're at your local Co-op!
"We started The Herbivorous Butcher to bring customers small-batch plant based meats that are always fresh, flavorful, and protein-rich so you never feel like you're sacrificing anything for healthy and ethical eating."
"All our products provide optimum amounts of protein and B-vitamins that many meat alternatives lack, as well as modest levels of monounsaturated fats that help reduce cholesterol and satisfy your hunger so you can really feel good while feeling good about eating well."

Eating Meat-Free is Green
Even a modest reduction in meat and cheese consumption greatly reduces your impact on the environment.
With recipes developed and honed over years, they're confident that one taste and you'll be hooked.
Deliciously deceiving meat-free meats:
Small Batch - Locally sourced - All-Natural - High Protein
---
Other Local Producers
Be sure to check out these others great local producers!