Bluebird Farm
Bluebird Farm
Type: Farm
Produces: Vegetables
Location: Lisbon, IA
Miles from Coop: 20
Brenna and Rogan Stoops are dedicated, enthusiastic, and environmentally aware farmers who grow certified organic produce at Bluebird Farm, outside Lisbon.
They focus on tomatoes, peppers, beans, broccoli, and cauliflower, and we couldn't be more grateful that they're sharing their efforts with New Pi!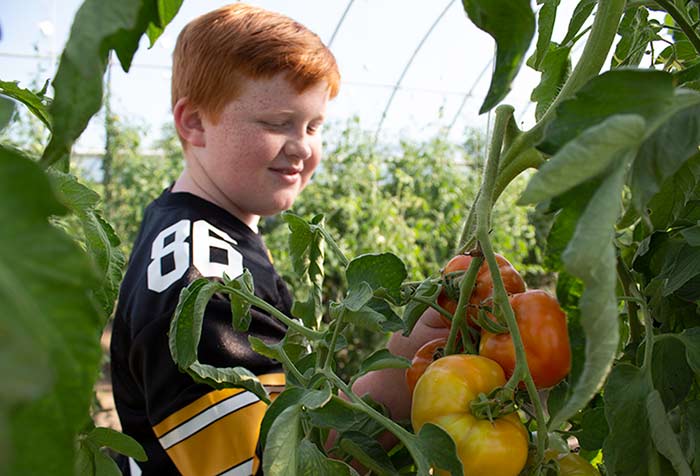 ---
Welcoming New Farmers into the New Pi Fold
A brown hen scampers through the fence, trailed by Brenna, Rogan, Mae (7), and Bo (10) when we pull into Bluebird Farm outside Lisbon, Iowa, on a beautiful late summer morning.
They wave hello, nab the last errant hen, and fill us in – apparently they've been up and at'em early this morning!
"Just this morning we dropped off heirloom tomatoes, green beans, and some hot peppers at New Pi Cedar Rapids."
Their beautiful certified organic farm shares a property line with a wildlife protection area, which is "Great for what we want to do," they point out.
Some farmers think getting organic certification is a near impossibility, but that hasn't been their experience:
"I understand paperwork," Rogan notes, which is a very handy skill,
"and I figured out [the organic application] isn't as bad as people are afraid of. I mean, you've got to follow the rules,"
but, he adds with a laugh:
"I got done not following rules in my twenties."

Neither Brenna nor Rogan farm full-time – they're both fully employed otherwise – but they're figuring out a way to live the dream anyway.
"Brenna was a gardener – her grandma taught her how to make pickles,"
Rogan adds.
"We never sat down and said we wanted to be vegetable farmers, it just kind of evolved. We kicked the idea around. And we wanted to raise country kids."
Rogan's dad gave them their first tractor:
"It didn't run. My dad asked, 'Can you fix it?' I said, "Yeah…" Now here we are, about 400 fixes later," Rogan laughs.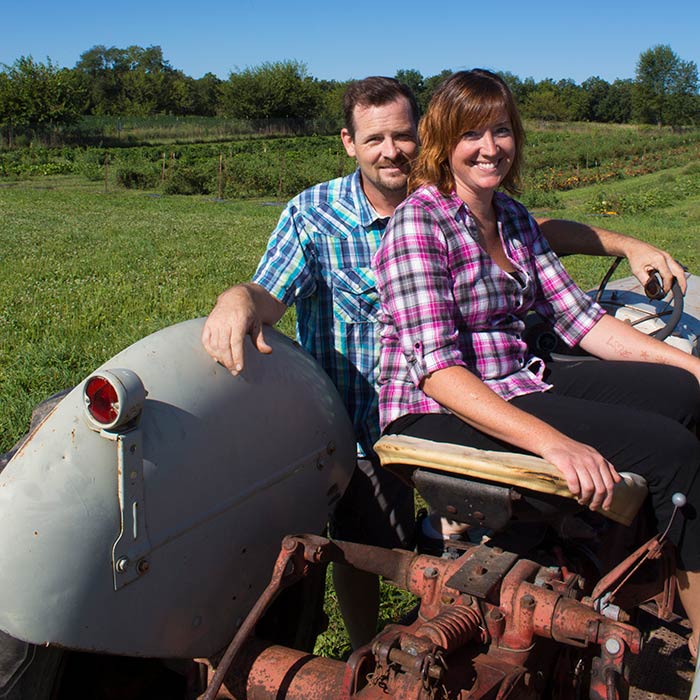 "We'd romanticized it," Brenna points out, about getting Rogan's dad's old tractor, thinking: "I'm going to do it the old way. It was nostalgic."
And anyway, "The new ones are so expensive."
Luckily Rogan likes to fix things, since "Everything breaks all the time," and he has a knack for it: "This is just my gift. Everyone's got'em, and that's mine."
But this year, frustrations with the old tractor's constant-breakage peaked, and they went for it and got a new John Deere:
"It's the first new thing we've bought besides socks and underwear!" Rogan quips.
"We're looking at expanding our farm, actually."
This is just their second year of farming and it's great to hear they're dreaming big. We need more organic farmers like these folks.
They're also pretty excited about their new water wheel transplanter this year, which makes putting transplants into the ground and laying irrigation tape a cinch. You just have to be able to keep your arms moving fast enough to get the new plants in the ground with the speed of the rolling tractor.
It seems like Bo likes that job.
It's a major efficiency step forward for small farmers like these guys.
Rogan and Bo are enthusiastic about their grain drill for seeding pasture and cover crops, and improving soil drainage too.
"They don't make these anymore," Rogan explains.
"I searched the internet for a part – the whole internet!" he laughs.
On a trip down in Texas, Brenna spotted one in someone's yard outside San Angelo.
"We went and knocked on their door," told them about the part they'd been seeking, "and the guys said we could just have it!"
They use it to plant cover crops, which "pull nitrogen [from the soil naturally] up to the surface," one of the many ways anhydrous ammonia nitrogen fertilizer isn't necessary in organic farming. They also use compost tea for soil fertility, and they trade their neighbor to get his cow manure for natural fertilizer.
"We've made [farming] friends that aren't organic, but they're getting closer," coming around a bit to organic methods, Rogan's noticed. "But there are some things they can't get off because they're easy. We wanted to start organic so we wouldn't know any other way."
Conventional farmers that might be interested in moving towards organic methods aren't always aware of all the organic-approved "pesticide" options out there, like pesticides made from flower and plant derivatives.
"I laugh, but we learned a lot about farming from YouTube!" Brenna chuckles.
There's a lot of information out there for aspiring farmers, not to speak of fellow organic farmers out there.
Brenna and Rogan applied for and received starting farmer grants for the hoop houses, which really reduces the volatility of growing heirloom tomatoes:
"It's just the way to do it, if you've got the land. You keep the wind and the rain and the dust off the heirloom tomatoes and they're fine, they're happy," Rogan explains.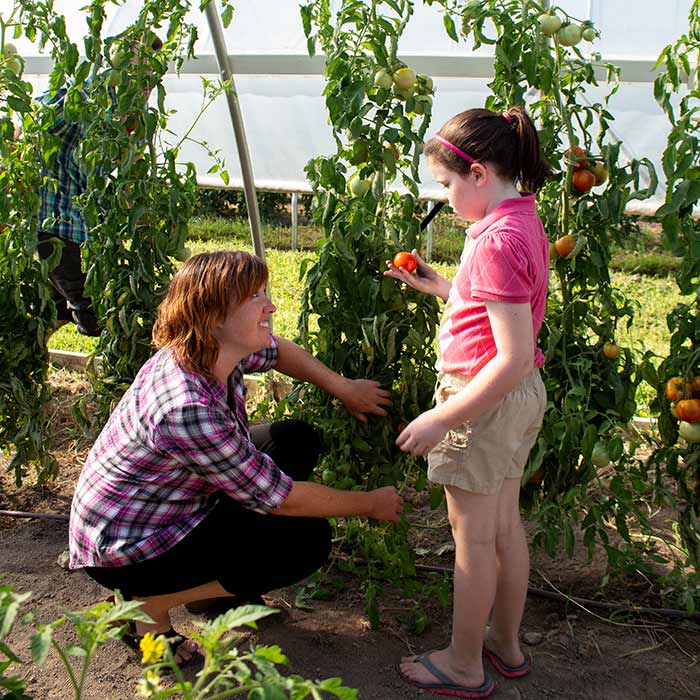 That's hard to do without a hoop house, which adds a layer of security to growing sensitive crops, and extends the growing season of course.
"This is only our second year at this scale – We're about 200% ahead of ourselves from last year. We just want to get good at growing a few things," they nod.
Their focus is tomatoes, peppers, beans, broccoli, and cauliflower, and we couldn't be more grateful they're sharing their talents with us at New Pi Cedar Rapids!
---
Other Local Producers
Be sure to check out these others great local producers!